Over the last few weeks we've had the opportunity to interview few of the biggest names in the EDM industry and they revealed a lot of exclusive information that will shock their fans. Scroll down to get the shock of your life.
KSHMR to move to India (Reasons: Blames Trump, Misses India & Indian Food)
American DJ/Producer of Indian origin, KSHMR has decided to move to India. KSHMR said that he was quite unhappy with the way thing are under the Trump government and also claims to miss India and Indian food. He got this idea right after his set at the 10th edition of Sunburn in Pune. He is looking to build a mansion in Kashmir.
Steve Aoki to stay loyal to his roots, will throw sushi instead of cakes
American electro-house DJ, Steve Aoki, who is known for his cake throws has made a shocking announcement that he is going to stop throwing cakes. Instead, he has decided to throw sushi into the crowd. This decision was made after he felt that he needed to stick to his Japanese roots.
Alan Walker & Marshmello to work on a new track, "Forever Alone"
Norwegian wonder kid, Alan Walker and mysterious electronic producer, Marshmello are all set to work together on a new single. Last year, both artists released tracks with the same title 'Alone' and both tracks became quite popular. Considering this success, both of them have decided to work together on a 2nd version of Alone and the track is going to be titled – 'Forever Alone'. We are too excited for this track!
Diplo to sue Oliver Heldens for using the same bass line on all his remixes
It all started when Oliver Heldens criticized Major Lazer's remix of 'Shape Of You'. There was a Twitter battle between the two with even Dillon Francis joining the controversy. Finally Diplo got frustrated of hearing Heldens' future house remixes with the same bass line and he has decided to sue him. Supporting Diplo in this suit will be Dillon Francis.
Marshmello adopts a cat and names it 'mau5trap'
Mysterious candyman, Marshmello (Cotton Candy) recently adopted a cat and named it 'mau5trap'. Wait, have we heard that name some where before? Hmm interesting. When asked about the reason behind the name Marshmello said that a fat mouse at home was troubling him and he wanted to get rid of it.
Martin Garrix finds a way to drink at clubs
Underage world #1 DJ, Martin Garrix finally reveals how he manages to drink at clubs. Garrix says that his partnership with 7up has helped him drink at clubs without managing to get into trouble. Garrix get his specially packed cans at clubs and they are pre-mixed vodka with 7up. None other than the EDM legend, Tiesto gave this idea to him. (Shhh! You were not supposed to know this!)
Duke Dumont hacks ZHU's Instagram account. Changes account name to 'iamcopycat'
About 2-3 weeks back, ZHU released his latest track 'Nightcrawler'. But, the moment the track was released, Duke Dumont wasn't happy about it as he claims that it's originally his own track and that it has been copied by ZHU. After a few days, out of frustration he hacked ZHU's Instagram account and renamed it to 'iamcopycat'.
Ultra India announce a special guest for the live stage – 'Honey Singh'
Recently Ultra Wordwide decided to expand to India, China & Australia. After surprising Indian fans by adding 2 cities to the list, they wanted to ensure that there is some local representation in the line up. So, they have announced that Indian rapper 'Honey Singh' will make a special appearance at the live stage. Apart from this, there are rumours that 'Daler Mehndi' also might make a special appearance if Deadmau5 is a part of the line up.
Calvin Harris explains how Calvin Klein inspires his stage name
Scottish DJ and record producer Calvin Harris, tells us how he got his stage name. As a kid, he has always loved Calvin Klien apparel, from tees to jeans to underwears. He wanted Calvin Klien to be a part of his life. Hence, the day he decided to choose a stage name, he included 'Calvin' in it. We don't think that we'll find such a big brand loyalist ever!
Wishing you a very happy April Fool's Day! We apologize if we got your hopes high about new music, new artist names and some exclusive inside information! Have a fun-filled day! And remember never to trust us on April 1. 😛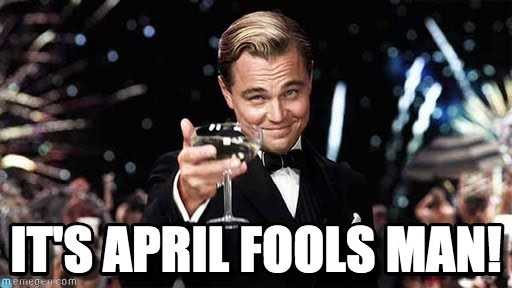 
A 22 year old lover of music, food, cars and sports. Believes that music will take you places and life's better when you're golfing.
Latest posts by Ranjiv Asher (see all)