Drake takes the crown again this year with 8.2 billion streams.
The year 2018 is coming to an end, but, Spotify's playlists just got better with its 2018 Wrapped list. This list has been anticipated for quite some time now and it brings out highlights for its users, the 100 top tracks she/he has listened to this year, making it the most unique playlist based on every individual taste.
Once this playlist is out, it also reveals data w.r.t what the world listened to in 2018. You can find out about the top artists, most heard genres, most streamed tracks, top throwback songs and more.
Today we are focussing on Drake who is not only the top male artist of 2018, he is also the most streamed artist of 2018. Drake was the most streamed artist in 2016, and he is taking the crown again this year with 8.2 billion streams. The Canadian rapper has proven to be the most streamed artist of all time.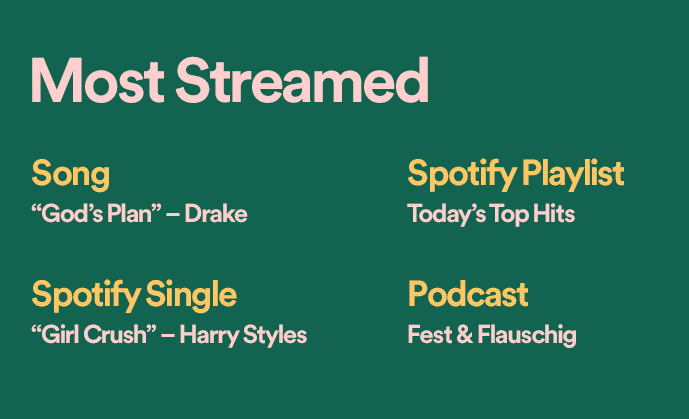 'God's plan' alone received more than 1 billion streams this year, which also took the top slot in its category followed by 'Scorpion' taking the top slot in its category.
Moving on, Drake was followed by Ariana Grande with 48 million monthly listeners which made her Spotify's most streamed female artist. Rihanna followed Ariana with her hits like 'Sweetener' and 'Thank u, next' which received 220 million streams throughout the year.
Perhaps what's more interesting is that the most streamed segment also highlighted "Girl Crush" by Harry Styles as the most streamed Spotify Single of 2018. Well, despite all the fan crush, now Spotify also has to admit that it's gotta girl crush for Harry Styles this 2018, and it ain't slowing down. If you haven't heard it yet, let's add to the number of streams by listening to it here.
To add to the most streamed Spotify single, there is the most streamed playlist which is the Today's Top Hits. It seems like, the world definitely trusts Spotify to spice up their day with their daily top hits. The surprise element rests with the most streamed podcast which is Fest and Flauschig which has completed 126 episodes and is run by Jan Bohmermann & Olli Schulz. Well, if you understand Deutsch, this podcast is definitely for you.
Spotify and streaming go hand in hand. While Drake is killing the streaming aspect of 2018 Spotify Wrapped, stay tuned, for more surprising elements and insights that Spotify has revealed this year.
Don't forget to tell us how many times you streamed Gods Plan on Spotify this year!
Latest posts by Paridhi Bhatiya
(see all)