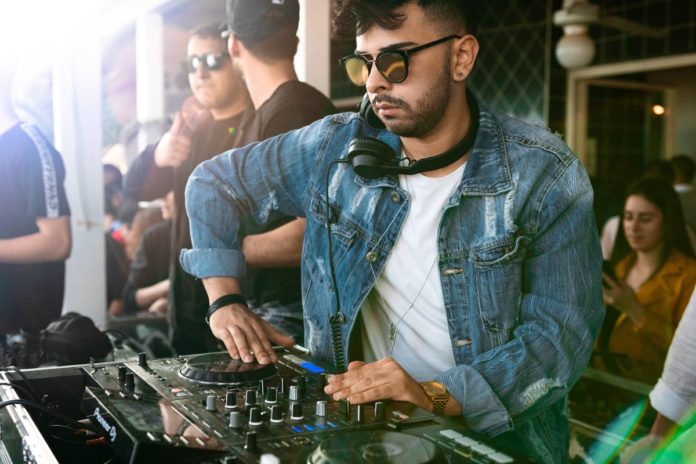 Busting the move on the dance floor while listening to your favourite tunes is everybody's main Saturday night's goal.
Or is it? Actually, for girls, it's getting ready and looking fabulous. But when your job demands dressing exquisitely while at the same time you are trying to bring the house down as you DJ, well then you are in a bit of trouble. If you are about to DJ, you need to look sensational, but overall your style and appearance must mimic the music you are into. Dress the part and send out fantastic vibes to the crowd, as here you have great ideas about what to wear when you're DJing.
Put some leather on
Hot or cold, leather skinny jeans or short shorts with cool printed tights are a winning combo no matter the season. If you think that nobody will notice your pants because you'll be deejaying either behind the counter or in front of your board, think twice. Every DJ will be dancing and moving along his tunes, so anything leather is a good option. Since the focus is on you, you can even opt for a frantic red or yellow leather jacket, so that disco neon lights will enlighten you even more.
Wear exquisite jewellery
As a disc jockey, your mixing board is your working tool, hence you operate it with your hands. If you strive to look bombastic as you mix records, align the sound and beats on the turntable, or just hold best budget DJ headphones, think of wearing top-notch rings. The beauty of rose gold rings, for instance, is that they are shiny, sophisticated, but at the same time look miraculous in contrast to the black turntable. Don't wear bulky earrings, though, as they might get entangled with the headphones and make your job harder.
Be original
Some might DJ at a birthday party, at the club, or at the wedding, anyway the key to perfect outlook is confidence. Sometimes you don't need to follow some celebrity patterns but only aim to be original. Very often a plain white tee in a combination of tight ripped jeans and stackable multicoloured bracelets is a perfect choice. While other times, you might want to wear fashionable baggy pants with a printed shirt and put on some flabbergasting shades. Stay true to yourself and choose whatever makes you comfortable as you DJ.
Stay open-minded (and experiment)
It's only logical that you will dress eloquently and smart if you were to DJ at a wedding. Nice black or khaki suit, cosy shoes, and a smart shirt. However, it's also utterly dazzling to experiment a little and implement some riveting accessory like a fancy headband, a cosmopolitan schoolboy hat, or a fedora. Likewise, you can experiment with colours. Printed turquoise and yellow mini dress, or try out a funky red high waist skirt accompanied by a cropped black top and denim jacket. Just stick to your beliefs and you will look drop-dead gorgeous.
Shoes – comfort vs. looks
When you have an important gala event, photo-shooting, celebrity show, or matinee during the day, you must dress elegant and luxurious. Choose leather or suede high heels, stilettos or pumps, or some sensational Jimmy Choo's and sacrifice the comfort. No matter if you're going to DJ and stand for more than 3h, in those situations you must overlook the comfort. On the other hand, if you were to DJ in a club, a simple pair of flats or fashionable sneakers will do the trick. Stunning ballerina flats, or moccasins, will help you dance and stand all night as you DJ.
To look cool and send inspiring vibes to your audience, wear whatever makes you feel comfortable but at the same time unique. Be bold and courageous and you'll always know how to dress for the part.