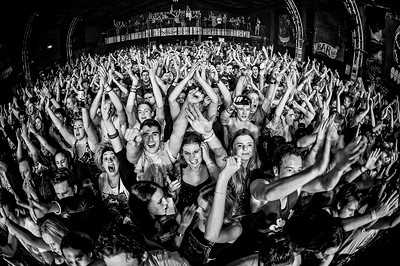 'Drum and Bass is still the bastard child of Dance music' argues Kasra, who feels the genre never receives the respect it deserves. Despite the fact that the genre is not upheld in the same bracket as House and Techno, Drum and Bass, as a genre, has evolved year after year. From its emergence in the English rave scene in the early 90's, drum'n'bass evolved and stood as one of the most energetic and influential genre, which was later dubbed as the genre of 'innovators'.
It rapidly expanded in its range of styles to encompass the raga-tinged bad bwoy of jungle, the amphetamine-attack darkcore of Ed Rush, Optical and Fierce, and the more ghostly jazz-inflected strains represented by Omni Trio and LTJ Bukem. Despite being a global phenomenon, friendly with the pop world, over the past 15 years drum & bass has had an invisible yet tangible(the words contradict, I know) history in the dance music family.
It was Goldie's "Timeless" album in 1995 that signalled the transition of Drum and Bass from underground to mainstream. The genre was a massive pioneer for Grime and Dubstep and the genres hogged massive media limelight.
DJ Fresh's Hot Right Now in 2012 hit the top of the UK charts, defying the pre-conceived notion of the genre being restricted to the underground side of dance music. The beauty of the genre is such that, you might listen to full whack mainstream tune and when you switch back to something underground, you end up liking both.
Drum and Bass had a strong 2015 with some brilliant LPs by Module Eight, Mark System, Joe Seven, and Binary Collective — alongside dancefloor-minded EPs from both new talent and established artists.
Along with the appreciation, there was a level of criticism from the listeners around the world that the same sounds were churned out in pretty much every Neurofunk release. Liquid Drum and Bass tunes had the same ring to it and there was hardly any source of inspiration. It had the quantity but could not match up with the quality.
Various polls suggested the need for the artists to step outside their comfort zones and splinter into your own space without worrying about what is happening elsewhere and boy they delivered. 2016 saw a meteoric rise of artists stepping outside and finding their niche without crossing over the roots.
2016 was long and inspiring for the genre with some monstrous LPs from Pola & Bryson, Blu Mar Ten and the Richie Brains collective.
LPs were followed by some brilliant EPs from Fixate, Alix Perez and Mitekiss and many others. Fixate; one of Dbridge's favourite artists released the 'March On' EP this year.
The response Fixate received was massive. March On was the genre defining material fans were looking for. The EP is a perfect blend of half-stepping Drum & Bass adventures + wild Footwork derivatives.
Another massive release was the "Who Is Richie Brains?" by the Richie Brains collective consisting of massive heavy hitters in the genre such as Alix Perez, Stray, Chimpo, Sam Binga, Om Unit, Fracture and Fixate defined drum & bass in 2016. Produced by some of the most passionate innovators in the industry, the EP is an infusion of Drum and bass with footwork, hip-hop, jungle and even grime. The main take-away of Who Is Richie Brains? is that the producers used traditional drum & bass minimally. Each and every track was meticulously curated by artists whose individual catalog had a common thread which wasn't really Drum and Bass.
We also witnessed Ivy Lab producing some experimental material and thanks to Kasra's comfort with giving space to experiments on his label, the trio of drum & bass producers Stray, Halogenix, and Sabre, were able to pursue their own take on half-time. Taking inspiration from artists both in and outside the scene — Alix Perez, Eprom, Machinedrum, Om Unit, Fracture — Ivy Lab found drum & bass fans and newcomers willing to join them.
Their 20/20 club night, which has been running in London for the past two years, was a pilot for the idea.
"We play beats, R&B, juke, footwork, the experimental end of drum & bass," Sabre explains. "It's a wide bracket with a common theme of the half-time spectrum.
Nostalgia is a problem affecting all strata of cultural creation and consumption today. But nostalgia is also how Drum and Bass finds a way to reinvigorate itself. This nostalgia inspired Andy C to bring back his residency series which begins in 2017, which was a clear indication that he missed play at smaller venues. The series was a bold statement which highlighted the importance of underground drum and bass still being the most important aspect of the genre.
"The fact drum & bass is in its third decade shows it's not going anywhere," dBridge summarizes. "It's big enough that pop acts are choosing it as a career choice while still underground enough for experiments. For a long time drum & bass borrowed from other genres but I think today you can see roles reversing, it's influencing genres like house and techno. It's an integral part of dance music as a whole. It's where it deserves to be."
Drum & bass may not be the most popular genre in the dance music spectrum block but it remains the most technical and daring, a true innovators genre. And, to quote Sully: "It's still the bollocks.

Latest posts by Sagar Deshmukh
(see all)