The world's biggest EDM festival, Tomorrowland is almost here! Taking place over 2 weekends from July 20-23 and 27-29, the festival is set to have one of its biggest year's yet. This year, we came across some really cool stuff on their website – Official Tomorrowland Merchandise!
Now you may be wondering, well what's so great about it, doesn't every other festival have its own merchandise? Well, yes they do… but probably not to this extent. So, let's take a look at some of our favourite Tomorrowland merchandise!
Graphic Icon Sweater
Price: €79.99
A simple yet cool logo sweater that won't just keep you warm but turn some heads as well. Thanks to the Graphic Icon Sweater, you are brought into a world of color gradients and geometrical shapes that all work together as one. This dimension eventually forms the bigger picture: the magnificent Tomorrowland Icon, because together, we can achieve so much more. This cosy sweater is ideal for the cool summer nights. Along with its ribs around the sleeves and the neck, this sweater ensures the perfect fit that respects the freedom of movement and comfort. All individual elements that come together to create the bigger picture is nothing less than creating harmony.
Into The Wild Tee
Price: €44.99
If you're into the beach-look and need something casual and light, this one's your go to! The Into the Wild Tee has an all over jungle print with a washed effect on the fabric to create a wild and fearless image. You'll be unstoppable with the subtle Tomorrowland lettering, which doesn't roar but blends perfectly into this t-shirt. Be Wild, Be Free, Be You.
Block Hoodie
Price: €69.99
Stylish, simple and definitely worth the price, this is kinda my favourite pick from the whole store. The bold rectangular screen print combined with a nice Tomorrowland lettering makes the Block Hoodie your new favourite! This hooded sweatshirt is perfect for cool summer days and ideal for everyday use as it has a soft & warm fabric. The lettering of Tomorrowland is placed on the outside of the box, as the people of Tomorrowland are known to be ambitious, determined, committed and outside the box-thinkers.
Amare Hoodie
Price: €79.99
Spread your wings with this Amare Hoodie. Inspired by Amare, on a mission to unite the People of Tomorrow and connecting souls from all over the world, the Amare Hoodie shows spirit, power and the pursuit of ultimate freedom. The large embroidery on the back of Amare will give you a look of wanderlust, while the elastic ribs around the sleeves and the neck always ensure the perfect fit for freedom of movement and comfort. This cozy sweater is ideal for the cool summer nights, and the large hood makes it extra warm with adjustable drawstrings. Go out and explore with this unique piece!
Blush Dress
Price: €99.99
Taking playsuits to the next level, the Blush Dress features an all over flower print allowing you to feel elegant, but also playful. This lightweight playsuit is being enriched with a skirt to look sexy, sophisticated and fun, all at the same time. There even is an optional snap-button in the neck-line for you to choose whether you'd like to open up a button, or rather keep it a little more classy. It is extremely lightweight and has a very breathable fabric, which makes this item perfect for hot summer days. Moreover, it is very comfy and provides you the freedom of movement. You'll definitely let your personality bloom in this one…
Forget Me Not Shorts
Price: €69.99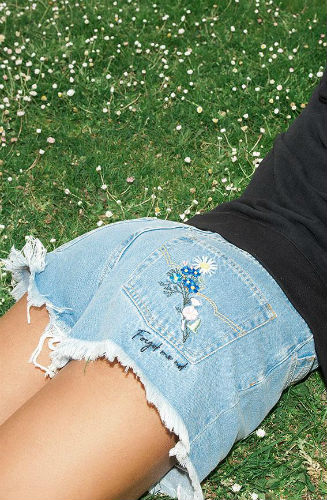 Cruise into summer with the Forget me not shorts. The 'Forget me not' lettering on the right back side of the shorts will remember your most favourite moments and people you have come across. The most loved highlight of this short is the flower embroidery while the high waisted fit of this comfortable denim short was designed with the freedom of movement in mind. Remember moments of true happiness.
Amare Cargo Jacket
Price: €199.99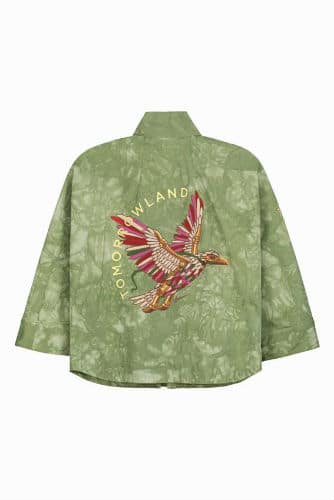 Turn heads with this exclusive (and super expensive) women's jacket specially designed for this year's edition. This item is really the must have out of all exclusive items! Spread your wings for the epic journey that is yet to come. Exploring is a crucial element of Tomorrowland, hence the large Amare embroidery on the back and the unique print on the whole jacket. Another trick up the Kimono-sleeves, is the butterfly embroidery to remember that you can go wherever you want as long as you are free spirited in mind. Finally, a black patch with Tomorrowland lettering adorns the left chest pocket.
Caps
Price: €34.99
With probably the widest range of caps and snapbacks, this section's for all those hard-core fans who really want to get their hands on some merch without breaking the bank.
TML x Komono Watch
Price: €79.99
The Tomorrowland x Komono Watch features a timeless and timely design that set itself apart by a clean black color and gold details. The hours are shown with de different moon phases in gold, and the Tomorrowland Icon helps you to keep a magical perspective on life. It comes in a beautiful black casing with gold details and the Tomorrowland x Komono Logo.
Jewellery
Price: €39.99 – €2995.00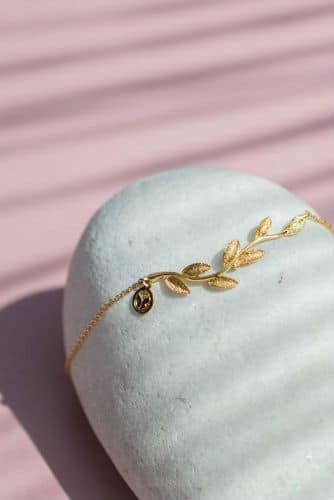 From jewellery made in 18K gold to the sterling gold-plated silver. If you'd like a little something to remember your Tomorrowland journey, this is where you'll find it!
Official Tomorrowland Flag
Price: €34.99
Embrace the warm feeling of Love, Peace and Unity with the Official Tomorrowland Flag. It features two plastic D-rings and two thumbholes to easily wear it as a cape or raise above the crowd. A small and unique bag lets you carry it around easily wherever you go. For every flag, Tomorrowland donates €5,00 to the Love Tomorrow Foundation.
And that's it! Our top picks from the Tomorrowland store! Time to get your cards out and make those purchases. Head on to the website right here.
Latest posts by Khushrav Bhada
(see all)