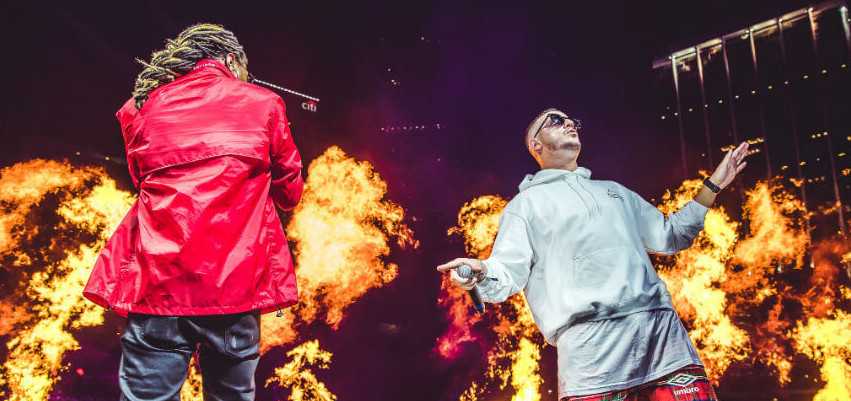 Ultra Music Festival, one of the biggest music festivals in the world ended last weekend. It was a fruitful 3-day festival filled with new IDs, surprises, cake throws and much more. So much happened over the weekend that it was really difficult to keep track of everything. So, here we have the top moments of Ultra Music Festival, Miami 2017.
DJ Snake brings rapper 'Future' on stage
It was a big night for a DJ snake as he was assigned the job to close one of the biggest music festivals in the world. Everyone was waiting to see the Frenchman special set. By bringing on 'Future' for a guest track, he caught everyone off guard. They started by playing 'Mask Off' and the followed it up with 'Jumpman'.
Steve Aoki's insane cake throwing ability continues
Aoki's cake throwing ritual continued and we are pretty sure that there wasn't a single fan in that crowd who didn't want to be caked. Aoki knocked down a fan with the cake throw and this one will go down in history books as one of his best throws!
Raise your hands if you're ready for some ? #ultra2017 pic.twitter.com/JmBvAuCJ8Y

— Just Hold Aoki (@steveaoki) March 26, 2017
Afrojack's mom's got the moves
Afrojack's mom was present with him behind the decks of UMF Radio set. She was clearly enjoying her son's music and now we know where Aforjack get all the energy and those moves. She partied with him for the whole duration of 3.5 hours.
Hardwell drops a smashing new collab with Maddix
Harwell, who is known for his high-energy festival screamers, dropped another such track with Maddix during his performance. When this ID dropped, fans went bonkers and got pumped up for the night!
Sander van Doorn emerges with 'Purple Haze' at ASOT stage
Dutch DJ and electronic producer, Sander Van Doorn played under his alter ego of 'Purple Haze' at the ASOT stage, showcasing a darker style of trance.
Axwell Λ Ingrosso literally play an orgasmic intro
Swedish duo, Axwell Λ Ingrosso managed to drop an intro that will do down in history books of EDM. We want you to listen to it rather than read about it. ;)
Patrick Topping killed it at the 'Resistance Stage'
The 'Resistance Stage' powered by the Arcadia Spider, a 20 metre tall structure, which was made out of fully recycled material was an attractive stage. The best techno DJs in the world took behind the decks at this stage. Out of the lot, British DJ, Patrick Topping's set was one of the best performances at the 'Resistance Stage'.
#TheResistance stage at Ultra Music Festival powered by the Arcadia Spider. One our highlights of #Ultra2017 day 3 with @Patrick_Topping pic.twitter.com/BoBEUEMlKq

— Florida New Times (@FloridaNewTimes) March 26, 2017
Jauz plays a surprise set at the 'Worldwide Stage'
American DJ, Jauz played a surprise closing set at the 'Worldwide Stage'.
Kygo performs as 'special guest' at 'Main Stage'
A 20-minute slot was given for a 'special guest' performance before Martin Garrix's set. Norwegian tropical house producer, Kyo took over the decks and dropped 2 new singles, 'Never Let You Go' and 'Kids In Love'.
'Never Let You Go'
Kygo with new track #NeverLetYouGo great!!! #Ultra2017 pic.twitter.com/pAwK8HzCP4

— Orhan (@cikcikgribi) March 25, 2017
'Kids In Love'
Alan Walker's brilliant Ultra debut
19-year-old Norwegian producer, Alan Walker made his Ultra debut this year and he dropped a lot of new IDs and old tracks during his set. We loved his set and looking at the energy of the crow we can say that Walker was far from being anxious during his big night.
W&W play as NWYR
W&W's new side project NWYR played a brilliant trance set at ASOT stage. This was the first time the duo played at Ultra Music Festival, not as W&W.
New locations for Ultra Worldwide announced during the live stream
During the live stream, Ultra suddenly showcased the list of locations for Ultra Worldwide 2017. As we found out, China, Australia and India were added as part of the expansion, to the list.
Also read, all the statistics from Ultra Miami 2017.
Latest posts by Ranjiv Asher
(see all)