When you think of Westergas, you immediately think of the Gashouder.
Anyone who has ever paid this stone behemoth a visit, will never forget. Every year despite the vast number of techno gigs happening at the city, we still make it a point to visit Gashouder for a showcase and this year was no different!
Larger than life production, great visuals, brilliant artists, great vibe and most importantly free space to move, breathe and feel free. Techno was not a genre that really caught my attention. Recounting my first experience, I was fortunate enough to catch Amsterdam Dance Event in 2017 and had covered all the showcases around apart from the techno ones. On the last day of the programme, we didn't have anywhere to go. We had heard so much about Awakenings hosting multiple events at the "Techno temple" Gashouder, we said we might as well check it out. Being the techno virgins that we were, we went in with zero expectations and had absolutely no idea about who and what we were going to witness there. To summarise what we experienced, all I can say is, by the end of the night, we were baptised at the "Techno Temple" and came out yearning for more!
Located in Northwest Amsterdam's Westergasfabriek gasworks complex, Gashouder is a venue and event space housed in an old industrial building. It's a large, pillar-less chamber with an iron roof and a maximum capacity of 3,500, meaning it can play host to large-scale club nights. Having been the home of Awakenings for over the past 20 years, this venue has been a host to some unforgettable nights and has also been one of the primary reasons behind why many people enjoy and love techno like they currently do.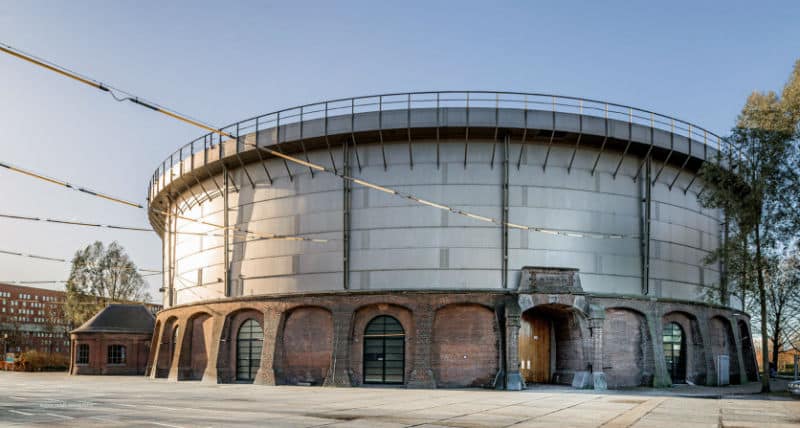 Over the years, Gashouder went on from becoming a gas works factory to a venue that still continues to host some stellar gigs. But what about Gashouder makes it so special and why do people enjoy shows at this venue so much? Is it the sound? The production? The artists playing? Or maybe a combination of all of the above? We sit back and reminisce about our time spent at this legendary place and figure out what about it makes us love it so much.
The beauty of the venue lays in the fact that it is one that accepts all fans alike. Unlike most other venues that split their tickets based on the areas of access, Gashouder is one that keeps it uniform for all. Moreover, walking into the venue makes you feel welcome and accepted. You see multiple like-minded people buzzing around the place all set to enjoy the music. When one goes to attend a concert, apart from the music and the artist, what matters and makes a major difference is an overall experience that Gashouder never fails to create for a fan. And obviously having partnered with Awakenings, it ensured that there was quality underground music being programmed for all to enjoy.
What is more fascinating is that this venue goes on to host extremely diverse showcases on a back to back basis during ADE and yet manages to tailor the entire vibe, the production, and elements as per every show's requirement. Each and every showcase hosted at the venue has been absolutely unique and different from the previous one and it still continues to create something unexpected every year. No two shows are alike. It also goes to show the effort put in by the organisers and the programmers to ensure that each and every experience created for the attendees is a unique one. It's probably why people keep returning year after year to catch more gigs at this spectacular venue. Every visit here has been extremely smooth and hassle-free and has always marked for a pleasant one.
Even when we visited the place recently this year for ADE, the lines still snaked around the building, despite the multiple other gigs going on in the city. But one could still sense the anticipation of what the night might hold.
Despite the long wait with the other visitors, the overall vibe was exactly as it's always been – a feeling that is bathed in lights and wayward lasers, this was the place to be. And it still will continue to remain relevant for years to come because of its incomparable atmosphere.
We can't wait for our next visit there already!
Latest posts by Shivani Murthy
(see all)