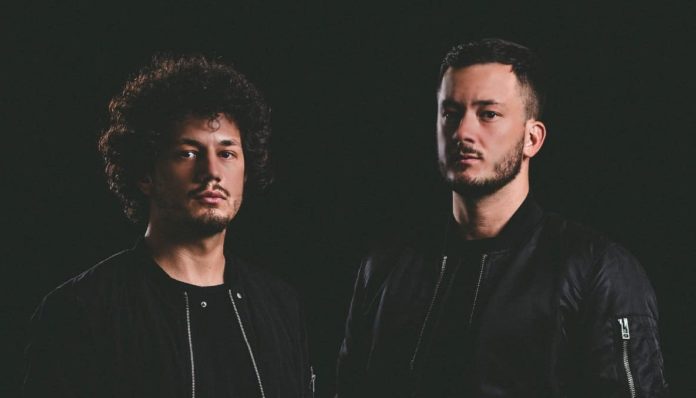 Hailing from Macedonia, Cyrillic consists of two brothers Andrej Ivanoski & Bojan Ivanoski. Formed in 2014 when they decided to join forces & share their passion for electronic music with the world.
Well known for their unique style & energetic sets, the duo has played over 100 gigs in the past year -sharing stages with the likes of Hardwell, Alan Walker, Steve Aoki, Robin Schulz and R3HAB.
We caught up with the duo to discuss their latest single and more.
T.H.E – Hey guys! Welcome to T.H.E – Music Essentials, how has 2020 been treating you both so far? 
Cyrillic – Well, that's really tough considering the situation the world is at the moment, also the lockdown of the whole entertainment industry and we not being on the road for a few mounts. But on the positive side, it gave us a lot of time to work in the studio and be creative. Which kind of worked out for the best, since we are working on our EP at the moment and a few days ago we released our second single this year "You Put Me Down".
T.H.E – Big summer vibes on your new single, 'You Put Me Down' ft. Jova Radevska – Can you talk us through your production process & choice of the vocalist on the track?
Cyrillic – Thanks, that was our intention, in fact, to make a single that people will enjoy during the summer. "You Put Me Down" is a product of us being in quarantine and trying to come up with something that kind of portrayed how we felt at that moment and combination with the anticipation of the sunny days. Jova is an amazing vocalist from the UK but originally from Macedonia (that's how we knew of her). We had her in mind for a collaboration for a long time, but we weren't sure about which single that would be. We sent her the instrumental, she gave us some really great ideas, so we set in the studio and that's where the magic happened.
T.H.E – What is the meaning behind your name Cyrillic & can you describe your signature sound as a duo?
Cyrillic – Cyrillic (Кирилица) in the actual translation it's a script that Slavic nations use, which resonated with us because we are coming from a Slavic country (Macedonia).
In our interpretation, it means to become true reformists in the process of spreading "literacy" – which in this case would mean to raise awareness and acceptance of this kind of music. Our signature sound would be a combination of traditional music that we experience from our region and the modern sound of today's music.
T.H.E – Can you tell us a little about your respective journeys into music & what ultimately led to your decision to combine forces?
Cyrillic – Well, music was always around us when we were growing up, we are not coming particularly from a family that was professionally involved with music, but a family that loved listening to good music and that's where we got the love for it. With our curiosity when we got our first computer we started experimenting with sounds and also having fun with some DJ software. Which few years forward it clicked, and we thought why not try and do this professionally. Also, we are very fortunate that we are brothers that want to do and have a love for the same thing.
T.H.E – How do you find the dynamics of working together, both in terms of brothers & as individual artists with your own creative ideas?
Andrej – We have very different characters that I think is the crucial thing that we are doing this successfully in terms of each of us having fresh ideas and different aspects, but we are also like-minded on the big stuff like our goals. And maybe the biggest thing how we get along together is of the respect we have for each other as individuals.
Bojan – Being brothers and also partners in Cyrillic is an advantage, in my opinion, there is no ego between us, so all we do is for the good for both of us.
T.H.E – Do you feel the music scene from your homeland has influenced your sound & are there any labels / DJs that have particularly inspired you?
Cyrillic – Yes, as we said before our music is influenced by our homeland music especially those signature traditional sounds that we actually love, they are like some kind of spice in our music.
There are a lot of DJs and labels that have inspired us or continue to inspire us like: Major Lazer, KSHMR, Calvin Harris, Hardwell, Avicii (rip), Darma, Spinnin', Armada, Musical Freedom…
T.H.E – Do you have any favourite pieces of kit in the studio that define your sound?
Cyrillic – We always try to be unique and creative. Yes there is tons and tons of samples and VST online but I think that the satisfaction of being an artist and actually being proud of what you did comes from your creativity during the creation of your music, so we always try to go out of the box and find inspiration in a lot of places like recording atmospheric sound in nature, or tapping and clapping on the desk in the studio, also we love adding live instrument in our records so a lot of the time we are doing a live recording in our studio.
T.H.E – And finally, what can we expect to see next from Cyrillic – any upcoming releases or projects you can share with us?
Cyrillic – We are working day and night on new projects together with our label Sky Eye Entertainment. Our focus is mostly on the upcoming EP that we hope it is going to be a great musical and visual experience. Also, we are working on a few singles that are going to come out before that, so check us on our socials for daily updates.