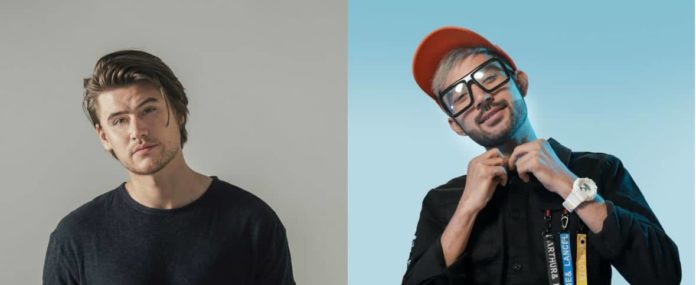 Dutch upstart Dante Klein hits summer 2019 with his young guns blazing on 'Don't Know Shit', an exuberant collaboration with Indian star Greff, out today on Spinnin' Records' Source division.
Primed for Spotify summer playlists the world over, the track is an unapologetic anthem for those currently figuring life out.
We spoke to both of them to understand how the collaboration came about. Read our chat!
T.H.E – Hey guys! Welcome to T.H.E – Music Essentials. How have you been?
Dante Klein – Hey! We have been really good, thank you! Just did a small tour in India together and had some time to catch up!
GREFF – Great! Excited for the upcoming release… Cannot wait to share it with our fans.
T.H.E – Love your new single on Spinnin' Records – Don't Know Shit! How did the collaboration come about?
Dante Klein – Thank you so much! We already had some contact in the last 6 months over the internet and started sending ideas back and forth. After that Hailey Collier jumped in with her amazing vocals and that's actually how everything started:)
GREFF – I got this amazing vocal from Dante's team, we sat together to work on a groovy beat, earlier the track was more of a low tempo radio vibe track, we gave it a modern groovy edge after increasing the tempo of the vocal. It turned out to be very exciting. Cannot wait to share
T.H.E – How long was the track in the works, and which part of it was the hardest to create?
Dante Klein – So it took about half a year to create the final track. Because we live in 2 different countries it's always harder to collaborate on a track, but the communication was really good so we managed it well!
GREFF – The hardest part is always to come up with the right idea. We played the vocal multiple times on different tempos, added drum patterns, figuring out the right groove pattern in synch with the tempo without spoiling the vibe of the track took some time, but we nailed it.
T.H.E – If you had to pick each other's strengths, what would it be?
Dante Klein – I think our best strength in this collaboration was the communication from both sides.
GREFF – We both had very different perspectives over the production process, which was exciting Dante is very good with grooves on the other end I did the sound designing part which blended well with the vocal. Dante is more experienced so it's always a pleasure to learn from his approach and skills, of course, that's how one grows in this industry.
T.H.E – You guys have certainly put in a lot of effort into reaching where you are. What have been some of the toughest challenges you faced in your career?
Dante Klein – For me, that is keeping up with the music industry. Because of all the latest technology the industry evolves so quick that it is pretty difficult to keep up sometimes.
GREFF – The sound is changing with time, the toughest challenge is to find the time and listen to fresh music all the time, Music which is upgrading the quality and taste of the listener. You have to be consistent and up to the mark with what you listen too, coz you add those influences in your vibe and your personality becomes the part of the music you make.
T.H.E – If there were two things you could change about the electronic music industry, what would it be?
GREFF – I would love to remove this ranking system and stop the big influencers who turn into deejays just coz they have more numbers. But I know its too much to ask for, numbers have nothing to do with a good song.
T.H.E – How has 2019 been for both of you so far?
Dante Klein – It has been a good year so far! Put out 2 club tracks that have done really well:)
GREFF – For me, it was a tough start, but now things are turning out to be smooth and I have my direction set.
T.H.E – Lastly, what are your plans for the rest of the year from a touring and production point of view?
Dante Klein – I will be doing some tours in Asia but mostly focussing on Production. I want to put out more music next year!:)
GREFF – For now I am just focusing on releases and expanding my market in India, if some of my productions grow big globally, then ill try to work with some marketing companies in different regions to expand my market globally.
Production wise I am focusing more on future pop music and trying to upgrade it as much as possible in my vibe. You can expect a lot of surprises this year as I know I am almost there :)