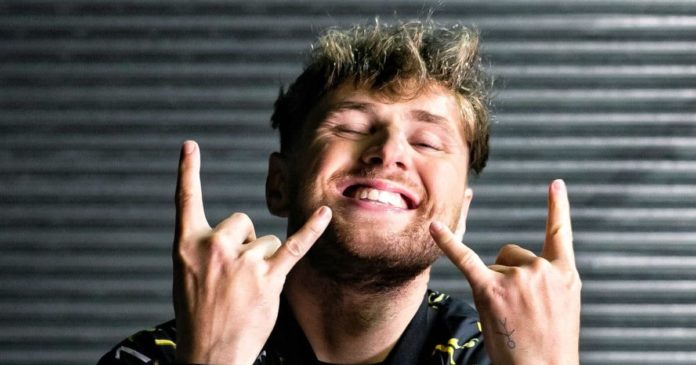 A social media superstar, who has amassed a global fanbase and loyal following of over 20 million fans, Kristen Hanby's legendary videos consistently go viral around the globe and have seen Kristen attract celebrity supporters including Demi Lovato and Soulja Boy.
Over the last 2 years, he has signed with a global music management agency alongside names such as Craig David, Jo Whiley, and Roman Kemp. His debut release Drunk Love gathered over 55k streams the day of release and he has just reached over 1 million streams on his Spotify channel.
We sat down with Kristen and spoke to him about "Drunk Love", and his journey as a musician. Read on!
T.H.E – Hey Kristen! Welcome to T.H.E – Music Essentials. What have you been up to?
Kristen Hanby – Yooooo, whats is up! I have been up to quite a lot recently, making videos, working on my music, working out making sure I'm staying healthy, just working on myself a lot and trying to better myself day by day.
T.H.E – Your new single is a nice balance between dance and pop. Would you say this is where your sound lies?
Kristen Hanby – Yes 100%, I love the feeling of catching a great vibe with a song, especially on the hook which is why it has an American style hook then followed by rapping on the verse with more of my UK style, I think it compliments the song and beat very well.
T.H.E – How did the single come about and given that it's your debut single, how long was it in the works?
Kristen Hanby – "Drunk Love" was actually a freestyled song which seemed to sound really dope from the go and I instantly knew it was going to be my next single.
T.H.E – What is the message with the music video? How was it working on it?
Kristen Hanby – No message really, I just thought I would go for a weird and fun trippy video with a lot of crazy effects that I think the fans would love and it turned out to be a super fitting video for the song.
T.H.E – You started off by building a mammoth social media presence with some funny videos, especially on your FB page. What made you take up music production? And which artists inspired you?
Kristen Hanby – Funnily enough, I wanted to make music way before I made funny videos. I just never had the confidence to try to make music as doing something different gets hated on by most people at the start but decided to try the videos which blew up building my confidence up in most departments leading me to try to chase the music dream which has had a very good response so far.
T.H.E – Which other genres are you a fan of? Are there any artists on your radar that you definitely want to collaborate with?
Kristen Hanby – I have a very open mind when it comes to music, some days I may listen to old school rap, the next day I may play a Justin Bieber acoustic album, maybe listen to SoundCloud rap and the next day listen to dance music, it all depends what mood I'm in really. A few artists I would love to collab with would be Lil Skies, massive fan of his work and feel like we have a similar sound, Juice WRLD would be a crazy one to make a song with too. I have a song dropping very soon with Soulja Boy which I think Is going to surprise a lot of people, especially because its the best verse I have ever heard him throw on a song. Sean Kingston is another artist I'm going to be recording a song with too in a couple of weeks so I have collabs I want to make happen and have epic collabs I also have lined up, it is looking good.
T.H.E – You have first-hand seen the capabilities that social media offers, to connect with your fans. Do you plan on placing the same importance on them, when it comes to building your profile as a musician?
Kristen Hanby – I'm taking the exact same process as I do with my videos, only put out good content I feel my fans will like and enjoy and never spam them much at all, that way they respect what I put out a lot more as I don't flood them with my content.
T.H.E – Did it occur to you to maybe have different social media channels, for the content creator, and the musician?
Kristen Hanby – I haven't once felt like creating a separate channel, I feel like I inspire a lot of people the way I try to have fun and try so many things in life, also the larger the platform I'm posting on, the better my posts will perform.
T.H.E – We read that you have shows coming up in Germany. What are you looking forward to, and how do you intend to go about planning your set?
Kristen Hanby – It's going to be my first ever show and we are expecting 2500 people per show, I don't want to plan it too much as I feel that it won't have that powerful emotional feeling to it that I should have for my first shows, I'm going to ride the energy I am given and absolutely kill it and once we complete all 10 shows, I will then look into planning my own tour.
T.H.E – Lastly, what are your plans for the rest of 2019?
Kristen Hanby – Get a lot more recognition towards my music, see if we can hit the charts with some of my music, line up more crazy collabs, get regular placements on radio stations, more plan a small headline tour and connect with fans.