Often described as the Netherlands' most striking DJ duo, Mr. Belt & Wezol stand out both production and appearance wise.
Hits like "Finally", "Boogie Wonderland" and "Let's All Chant" have an old school house and disco vibe, twisted with Mr. B&W's characteristic dynamic drops. While their sound is easily recognizable among the other Spinnin' Records' releases, there's also another piece to the cake that makes this act special: their videos. Always spot on between humor and originality it often makes the fans eager to not only listen to the next track, but also to see the next track.
The duo spoke to us at Amsterdam Dance Event 2018, and told us their story of how Oliver Heldens helped them kick off in the music industry, and reveal 3 facts about each other that people do not know!
T.H.E – Hey guys! How is ADE 2018 sort of progressing for you and when you actually came here, what are the kind of goals you had for yourself?
Mr. Belt & Wezol – Well, I think the biggest goal we had for this ADE is our own event, which is tonight. It's called "The Cuckoo's Nest". We invited 23 of our DJ friends to do back2back sets with each other, and we're really curious how that is going to turn out! So if tonight goes well, I would consider ADE as a success.
T.H.E – When you started off, right. What sort of prompted you to become DJ's/Producers or got you into electronic music? 
Mr. Belt & Wezol – There was this time where we visited a lot of festivals together. We were both working at festival organizations at that time, so we went to every festival for two summers long. It was at these festivals where we grew our love for house music, and it inspired us to do what we do now!
T.H.E – What are some of the biggest challenges that you guys have faced ever since you started off in the electronic music industry?
Mr. Belt & Wezol – I think we didn't really face any challenges because we were not really setting the bar really high for ourselves. We were not like – we are going to start this duo and we're going to make it big, no matter what. We were just like – let's start the duo and we'll see whatever it brings.
T.H.E – You guys have grown very fast. Compared to a lot of artists. I mean, I've been following you guys for some years, right from the beginning when you started off, to having constant releases on a label like Spinnin' Records. You guys have grown very fast so. How did that happen? Were there any artists who sort of inspired you? Were there any people around you who help you sort of become bigger?
Mr. Belt & Wezol – Oh, yeah. It's a really clear story. When we only had 200 followers on Soundcloud we spent a lot of hours writing to music-blogs. As a result, we got a couple of blog posts out of that. Then, the cousin of Oliver Heldens found one of our tracks on one of those blogs, I believe the track was "Toys". He liked that song so much that he showed it to Oliver Heldens and Oliver Heldens then, in his turn, sent us a message praising the track. He asked if we had any other unreleased tracks laying around. We then sent him "Shiver", and that track became our first single release on Spinnin'!
T.H.E – So considering you guys have like made it so big in a few years, right. What are the kinds of tips or what pieces of advice would you want to give to upcoming producers?
Mr. Belt & Wezol (Bart) – Write to blogs to get your music out there. Write to every blog with an individual email. Do some research, start by writing about how you love their blogs. I think that really helps instead of BCC'ing 180 blogs in one email. That makes a difference, I think.
Mr. Belt & Wezol (Sam) – First off your music needs to be of good quality of course if a blog even wants to consider posting your music. But honestly, I think the biggest thing is the way you stand in the whole "being a DJ/Producer" thing. If you're going to become a DJ and you want to become big no matter what, you are going to be disappointed each time that that's not going to happen. Then you are gonna be salty about that and that will kill your motivation in the end. Just work on your music, it should be between you and your music. Everything else will be a nice extra.
T.H.E –  Your recent release which is "Reckless", I honestly love the kind of vibe that it represents.
Mr. Belt & Wezol – Thank you.
T.H.E – But what I wanted to ask you is ever since you started off, you have a very distinctive trademark sound, which is the deep house sort of space. Is that something that we can sort of expect you to continue or do we expect you to sort of branch out to different sounds?
Mr. Belt & Wezol – Yeah, definitely. I think "Reckless" was a really good example of that sound branching out a little bit more. Because we were always a little bit more… yeah, garage-influenced, I would say. But this one has more of a kind of a progressive house vibe, I think. So this was more of an experiment for us to see what kind of tracks we can release and if they would be received well. Our next track coming out (Nov 2) is a really club-oriented track so we're curious to see what kinda traction that will get. It's also been kind of a long time since we did a track like that.
T.H.E – You already played it somewhere?
Mr. Belt & Wezol – We played it yesterday for the first time.
T.H.E – How did the crowd react?
Mr. Belt & Wezol – Yeah, good, I think. It's always kind of hard to see because if it's a new track, no one knows it yet. So everyone's going – "oh what's this?" It's coming out on Heldeep Records and it played at the Heldeep ADE event, so it was the best place to play the track for the first time!
T.H.E – From a touring point a view, you guys are sort of obviously played at sort of big festivals. Which sort of moments or which festivals stick out for you, in terms of highlights? 
Mr. Belt & Wezol – I think this summer it was Tomorrowland for sure. It was our first time at Tomorrowland and we went up really early, from 2 to 3 I think. We were like – it's gonna be not that busy, maybe half full? But in the end, it was loaded and that was sick to see. In 15 minutes it went from almost completely empty to almost completely full! It was just an amazing feeling to see that amount of people come especially for your music.
T.H.E – Is your touring schedule quite hectic? Would you call it hectic?
Mr. Belt & Wezol – It's do-able. It can be hectic in the summer, but overall it's do-able for sure.
T.H.E – How do you guys manage, like you know ensuring that you also have rest while also doing plenty of shows?
Mr. Belt & Wezol – Well, our tour schedule still allows us to create music every week. We also organize events with The Cuckoo's Nest once every quarter. So all those things together are still manageable, you know. And especially now that the festival season is over in the Netherlands, that means that in terms of bookings it's going to be a little bit less hectic for us. We do go to Asia in November for a little tour there. But in the end, that means that we got more time to make music and to organize cool club nights, which we're doing again on December 1st. So in other words, it's the two of us. So we are like – he can do that and I can do this. So we sort our stuff out that way.
T.H.E – You do that? So you guys split both those up?
Mr. Belt & Mr. Wezol –  Yeah. All the time!
T.H.E – That's impressive, honestly, because I haven't come across a lot of DJ duo's who split in terms of producing or whatever.
Mr. Belt & Wezol – Oh yeah, we do split it – I do music (Sam). Bart does the videos. Club nights we do together, sort of. But we do have a very strict rule of who does what. But yeah, it all still intertwines in the end, you know.
T.H.E – Considering you guys already made a name for yourself. What is next for you, like what are the next set of goals you've kept for yourself… say next year?
Mr. Belt & Wezol – Well, we still haven't played in China and we would love to play in China. So I think that we would really like to enter the Asian market a little more.
T.H.E – Interesting!
Mr. Belt & Wezol – Right? I think that's one of our goals. Also, Australia is something we would really love to do touring-wise. Canada, Mexico, Brazil are on the list too, but we've been there already. We'd love to return though!
T.H.E – And lastly, what are the three things which people do not know about you.
Mr. Belt & Wezol – Oh, so when Belt wants to sign "three" with his hands, he does it like this, which is really weird. I just do it like this, but he does it like this. It's like a gang sign or something.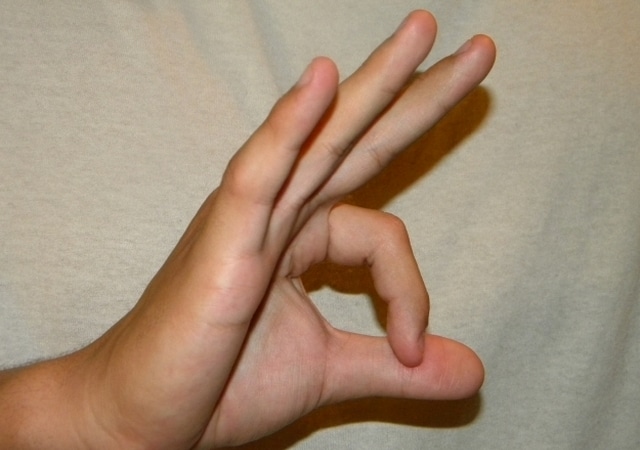 Mr. Belt & Wezol (Sam) – I can touch my nose with my tongue. And some weeks ago, I helped a horse get one of its teeth taken out.
T.H.E – Wow.
Mr. Belt & Wezol (Sam) – I also really love sour candy!
T.H.E – Ok. That's interesting! What about you, Bart?
Mr. Belt & Wezol (Bart) – I really like the new burger at McDonald's.
T.H.E – I'll try it out. Definitely! One more left.    
Mr. Belt & Wezol (Bart) – Oh yeah. Let me think.
T.H.E – Do you have a girlfriend?
Mr. Belt & Wezol (Bart) – I do. Yeah.
T.H.E – What's her name?
Mr. Belt & Wezol (Bart) – Marisa.
T.H.E – And do you have any message for her?
Mr. Belt & Wezol (Bart) – A message for Marisa? Yeah!
Mr. Belt & Wezol (Sam) – Love you, baby!
(Laughs)
Mr. Belt & Wezol (Bart) – I can do better.
Mr. Belt & Wezol (Bart) – Marisa….. if you hear this or read this..
Mr. Belt & Wezol (Sam) – Clean up your room!
Mr. Belt & Wezol (Bart) – Clean up your stuff, right now, in my room. It's all over the place!
T.H.E – Thanks guys for an amazing chat!
You can watch the music video of their new single, here.