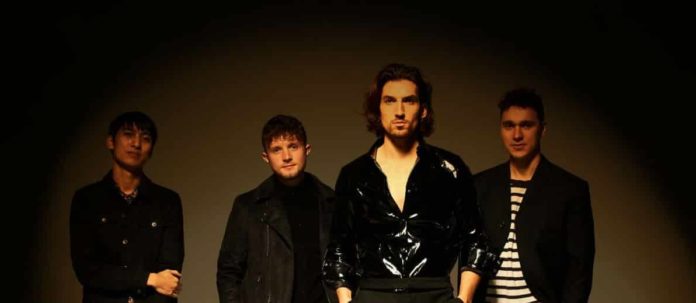 Fresh from touring the UK with Feeder and The Libertines, Liverpool's Wide Eyed Boy is gearing up to release their new single Calling (I Hear You).
Two parts British, one-part German, and one part Australian, Wide Eyed Boy consist of an eclectic mix of musicians – Oliver Nagy (Vocals), Jonny Ball (Guitars), Kobe Pham (Guitars) and Tom Taylor (Drums). We caught up with the band, and spoke about their single, their upcoming Germany tour, and musical influences.
T.H.E – Congrats on the new single – talk us through the writing process.
Wide Eyed Boy – When we wrote Calling me and the boys were in geographically different places. Kobi had this amazing demo he worked on in Liverpool and he sent it over to me.
I was in London when I've heard the rough demo and absolutely loved it… so I started walking down the streets of hackney and just came up with the melody for the chorus in about 2 minutes.
About a week later I went up to Liverpool and me and the boys finished writing the song together. Rich Turvey with his incredible production skills added the last bit of magic to the song and now we're so happy to finally release it into the world.
T.H.E – How long have you guys been together as a band and how did you meet?
Wide Eyed Boy – We've all met at Uni in Liverpool and started joining and working in projects that always involved each of us.
About 2.5 years ago we decided to take things to the next level and started gigging and releasing music as Wide Eyed Boy.
T.H.E – Who would you say are your biggest influences in music?
Wide Eyed Boy – This is always a difficult question to answer because we all come from different musical backgrounds. For me, personally from a singers perspective, I've always been into vocalists that had amazing voices and I always sang along to them as a kid.
Jacksons 5, Queen, Marvin Gaye, Stevie Wonder.. even Abba!
But then came all the other music I fell in love with over the years like The Red Hot Chili Peppers, Muse, Coldplay, The Killers, Madonna, and random German techno artists.
So I'd say personally I am influenced by a very eclectic musical background and as a band, we managed to fuse all our different ideas and influences together to create something we all love, and call Wide Eyed Boy.
T.H.E – You are getting ready to embark on a German tour – what can fans expect?
Wide Eyed Boy – The boys and I love gigging in Germany. The crowds are always super energetic and you can tell they are there to have a good time. Fans can expect some new material and a super-energetic show. We've been busy writing and recording and can't wait to perform these new tracks in front of a live audience
T.H.E – What does the rest of the year hold for you?
Wide Eyed Boy – After the Germany tour we will focus on playing more shows in the UK and work towards the release of our debut album.
There are a lot of creative juices flowing in the band at the moment so we are writing and producing a lot.
We might even decide to ditch the original idea of an album and release more eps at a faster rate because they seem to be a great snapshot of where we are as a band at that moment.
T.H.E – You have played some pretty amazing venues including Brixton and Ally Pally – how were the supper tours?
Wide Eyed Boy – Playing your own shows is obviously amazing because people come to see you and want to have the full experience, being support for bands like Feeder at Brixton Academy is a whole different ballgame. The venues are amazing, the crowd, however, is there mostly to see someone else.
Nonetheless, this can be extremely liberating because the pressure is lifted entirely and we can just put on a massive show and do our thing without having to worry about anything. Also, hopefully, pick up a couple of fans on the way.