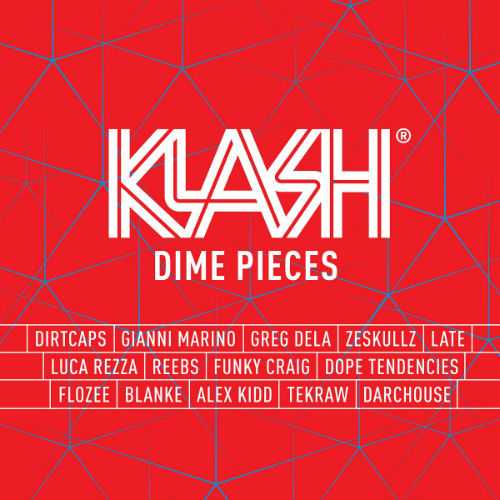 Barely a year after launching their KLASH label in collaboration with Amsterdam-based record label Armada Music, Dirtcaps have gone on to release their imprint's very first mix compilation, mixed by Dirtcaps themselves.
Listen to 'KLASH: Dime Pieces (Mixed by Dirtcaps)'
Set to turn up the heat in dance music hotspots all over the world, 'KLASH: Dime Pieces' features eleven mind-blowing songs in total, three of which feature the signature treatment of Dirtcaps (two collaborations, one edit). Comprising whiffs of brilliance from skilled producers such as Alex Kidd, Gianni Marino, Luca Rezza, Reebs, Tekraw, ZeSKULLZ & Darchouse and more, this mix compilation is setting a new standard entirely.
Dirtcaps: "We are very happy to present our 'KLASH: Dime Pieces' mix compilation. It is an extension of the philosophy of KLASH: good and quality music. We are proud to have worked with such talented producers from all over the world."
Dirtcaps have been buzzing in the scene since 2008 and have since conquered some of the biggest club brands in the game with their dashing live shows. The Dutch duo played at the world's biggest festivals (e.g. Defqon.1 in Chile, Tomorrowland, Tomorrowworld, Mysteryland), did remixes for and worked with a full range of Electronic Music superstars (Hardwell, W&W, DJ Carnage, Laidback Luke and Coone) and even showed a different side to their renowned Trap House sound through recent offering 'Foreign Tongues' (feat. Eleni Drake). This brand-new mix compilation proves that the Dutchmen keep making waves across the board.
Tracklist:
1. Dirtcaps & Funky Craig – They Ain't Ready Fam
2. ZeSKULLZ & Darchouse – Without Myself
3. Reebs – Boom Bap
4. Luca Rezza – Bongo (Dirtcaps Edit)
5. Dope Tendencies & Flozee – Monkey Madness
6. Late – Combo
7. Dirtcaps & Alex Kidd – Btfu
8. Gianni Marino – Majapahit
9. Tekraw – Bailalo
10. Greg Dela – Outer Space
11. Blanke – Immunity