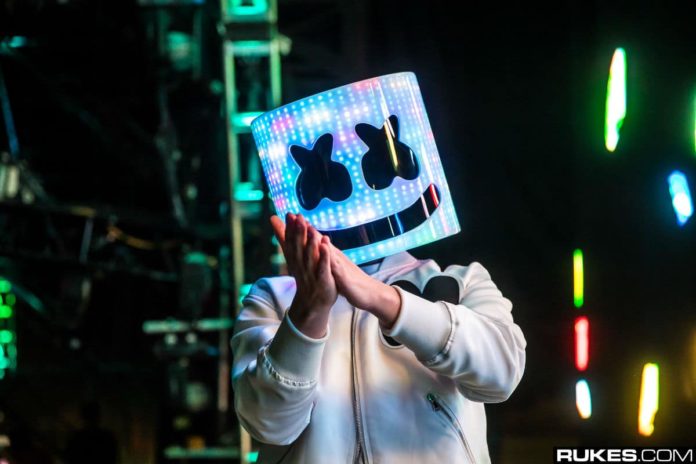 Love him or hate him, Marshmello has been an artist who has stolen the limelight time and again in the recent past. Whether it's then with news about his music or a game, a cooking show or something else we absolutely didn't expect from him.
The masked artist just dropped his third studio album titled Joyitme III with a myriad of top collaborators. In a pleasant change from how other artists have been doing it off late, he only dropped two tracks from the album pre-release where he partnered with Flux Pavilion and Elohim on "Room To Fall" and A Day To Remember on "Rescue Me." The 13-track album also sees him team up with TYNAN, Crankdat, Slushii, Yultron, Wiwek, and Bellecour.
Speaking about the album and his excitement about the release, Marshmello said,
"Joytime III is going to be so sick. I'm so excited about it. So many collaborations with so many dope artists. I really wanted this album to be about the roots of our scene & working with my favorite dance producers & singers."
In true Marshmello style, he released the album a day earlier for his loyalist fans who had his game Marshmello Music Dance. The game mechanics resemble other famous games which prompt a player to match on-screen prompts and dance along to the music. Players get to play along as Marshmello, Slushii, Jauz, and others with a chance to level up your characters to progress in the game. Marshmello Music Dance is available as a free download on the Google Play Store and Apple App Store.
As a whole, Marshmello has stayed true to his signature sounds on the album but also worked on incorporating fresh new sounds and influences. The album is like a journey through genres ranging from a vocal ballad to a vibey house track and from melodic future bass to hardcore and dubstep.
Marshmello also revealed he has sung himself on a number of the tracks on the album.
I sang on Sad Songs, Proud, Run It Up and Falling To Pieces. Glad you're enjoying it! #JOYTIMEIII https://t.co/a6mEkiUAjf

— marshmello (@marshmellomusic) July 3, 2019
Find the full album tracklist here –
1. "Down" – Marshmello
2. "Run it Up" – Marshmello
3. "Put Yo Hands Up" – Marshmello x Slushii
4. "Let's Get Down" – Marshmello x Yultron
5. "Sad Songs" – Marshmello
6. "Set Me Free" – Marshmello x Bellecour
7. "Room to Fall" – Marshmello x Flux Pavilion ft. Elohim
8. "Angklung Life" – Marshmello x Wiwek
9. "Earthquake" – Marshmello x TYNAN
10. Falling To Pieces" – Marshmello x Crankdat
11. "Here We Go Again" – Marshmello
12. "Rescue Me – Marshmello x A Day to Remember
13. "Proud" – Marshmello
Latest posts by Melody Siganporia
(see all)