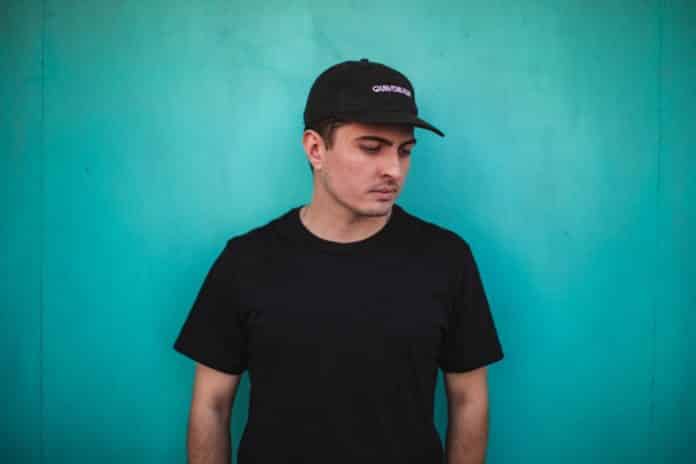 Insomniac Records welcomes back OMNOM onto its catalog–only this time, the house music maven is joined by the equally hyped homie, VNSSA, for a wonky tech house cut that ticks all the right boxes.
Seeing as how both of these artists are operating out of Los Angeles, simultaneously experiencing a meteoric rise, and traveling in similar circles, it was only a matter of time before these two in-demand producers decided to lock horns and put a much-needed collab in motion. Luckily, they didn't take long before deciding to link up for a fruitful session in the studio that has given form to their latest single, "Skin," a dichotomous dance-floor hit that shows them fleshing out both of their idiosyncratic styles into one impeccably layered record.
"One day, Vanessa and I sat down in the studio with the sole intention of writing a "rave bomb" (as I like to call them)," says OMNOM. "And I really think we created a track that toes the line between 'beauty' and 'beast.' Lush chords and sparkly synths eventually melt away to reveal a monstrous bass-line covered with zapping lasers and sizzling snare fills. Just like how Vanessa's haunting vocals may seem a bit morbid at first, I think it's not hard to find some beauty in the underlying message that we aren't so different in the end."
"OMNOM and I have been friends for a few years and after playing shows together consistently for the last year we decided it was time to collaborate," adds VNSSA. "This track came together pretty fast and I really think, just like the artwork, it's a complete amalgamation of the two of us."
It's been a couple of years since OMNOM first appeared on Insomniac's flagship imprint, when he teamed up with fellow Angeleno Zendlo on "Methane" back in 2018. Since that time, the insatiable producer has kept himself busy kicking out quirky and impossibly satisfying records for a whole host of household labels such as Dirtybird, Confession, Strangelove, Box of Cats, to name a few.
On the other hand, VNSSA has been blowing up on the back of acclaimed cuts that have not only been tearing up festival stages across the map, but also oftentimes feature her very own delivery of ear-burrowing hooks. She's graced a head-turning list of labels that counts off crews from the likes of Dirtybird, Higher Ground, REALM Records, Box Of Cats, Country Club Disco and more.
"Skin" is a sensational slice of woozy four-on-the-floor sensibilities that sits perfectly between two of the hottest names in house music. And hopefully, this won't be the last rave bomb we get from OMNOM and VNSSA.
________________________________________________________________________
We have made a special playlist to help you stay engaged, and stay at home during this lockdown, you can stream it here.