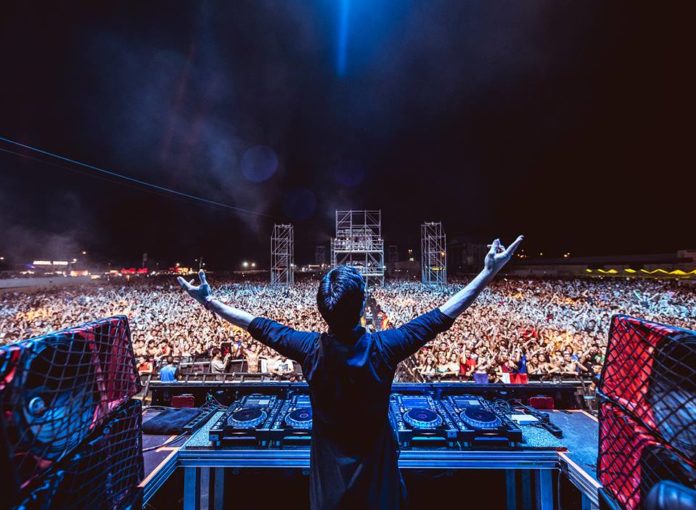 One of dance music's biggest artists, KSHMR, continues to raise the bar every step of the way, and as Diwali comes to a close, the festivities will continue as he embarks on his first tour of India!
Fresh off a colossal headlining act at Tomorrowland and Ultra Music Festival this year, and Sunburn Festival last year, Niles Hollowell-Dhar the Indo-American DJ, record producer from Berkeley, California is set to tour his homeland this year with an intrinsic nationwide tour promoted by Percept Live that hopes to be a hallmark for auditory exploration transcending borders.
It is no secret that Hollowell-Dhar has always had a strong connection to his Indian roots. His father came to the United States from Kashmir, India — where the moniker KSHMR is derived from — at the age of 25.
KSHMR who always lands in the top 100 of the Beatport overall charts states, "I attribute a large part of my success to India and the country has always held a special place in my heart. This is my first tour in India — a homecoming of sorts and a moment I've long waited for. I plan to give people an experience that reflects just how important it is to me. Having CRY a part of this show is a huge honor for me because they address poverty at its brunt — the children. They are the window of time through which we may leave some good beyond our own."
KSHMR's latest endeavor is his own record label Dharma, which serves as a platform to showcase the best global talent in the world of electronic music, including KSHMR's latest EP Materia featuring Snails, Maurice West, Mariana Bo and more.
Karan Singh, Global CEO – Sunburn elaborates, "KSHMR is an act like no other. Right from the curation of his sets, to the grand visuals that he incorporates that come together to make a truly multi-sensory experience. We had a phenomenal turnout and response last New Year's Eve when KSHMR headlined the finale set at Sunburn 10. Taking it a notch higher this year we are curating a one of a kind arena tour that will bring to life an unparalleled live music experience and a memorable one for all attendees."
Being a propagator of humanity and an ardent philanthropist, KSHMR will donate proceeds of his New Delhi event titled "KARMA" (drawing inspiration from the law of the providence) to charitable institution, Child Rights And You (CRY) that propagates the welfare of underprivileged children through dignity, justice and equity for all.
Ms. Soha Moitra – Regional Director (North ) – Child Rights and You adds, "We are delighted to be the selected Official Charity Partners for KSHMR charity event. We hope that many more fans of KSHMR will come forward and extend their support in making this event successful. All the money raised will help us to ensure happy healthy and creative childhoods for underprivileged children in India."
Tour Details:
India Exposition Mart, Greater Noida – Friday, October 20th 2017
KSHMR & Sunburn Arena present KARMA a charity event for CRY
E-Zone, Bengaluru – Saturday, 21st October 2017
VGP Beach Resort, Chennai – Sunday, 22nd October 2017
Aquatica, Kolkata – Friday, 27th October 2017
HITEX Exhibition and Convention Centre, Hyderabad – Saturday, 28th October 2017
Mahalaxmi Racecourse, Mumbai – Sunday, 29th October 2017
Limited tickets starting at Rs. 500/- on sale on 15th September on www.kshmr.in