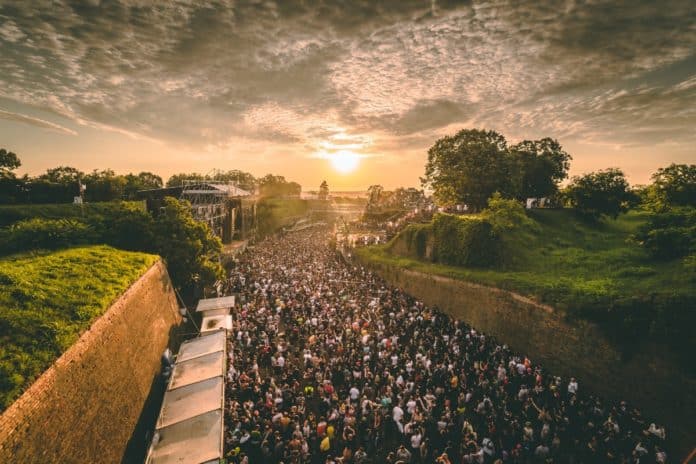 After the Serbian Prime Minister asked the EXIT festival not to cancel but move to August, the organizers are working round the clock to create a special and meaningful event for the 20th birthday edition.
With the dates set for EXIT to take place from 13 to 16 August, the first wave of more than 30 performers is announced including Amelie Lens, Black Coffee, Nina Kraviz, Paul Kalkbrenner, Boris Brejcha, Tale Of Us, Robin Schulz, Ofenbach and Laibach. Roni Size who headlined the festival 20 years ago, will also perform an exclusive B2B set with LTJ Bukem feat. EXIT resident MC Dynamite, to name a few. All artists will be coming together to play at one of the world's best-loved and award-winning festivals that started as a peace and freedom movement back in 2000.
When EXIT called for unity last November publishing a 2020 campaign that shows different races and ethnicities combined together in a single human face, no one could have predicted that it would be as relevant as it is today.
"With everything that is happening in the world today, the social message of EXIT, unfortunately, seems as important as it was 20 years ago. Back then we were exiting the oppressive regime and fighting for peace and freedom in Serbia and Balkans. Now, 20 years later, we wish to send a message of hope to the world that worst is behind us when the pandemic is concerned, but also stress that there is so much work we all need to do when the things like racial inequalities or the destruction of our planet are concerned" – said founder and CEO of EXIT festival Dušan Kovačević.
Many of the leading music industry figures are naming this year's festival edition as a "beacon of light" for the recovery for the event industry. Following all health and government guidelines, EXIT will open at least 20 stages and zones throughout the expansive Petrovaradin Fortress. One of the main precautionary measures, the number of attendees will be limited to 50%, in an area that can hold at least 90% of its usual capacity.
The **Main Stage **will be in its usual place on the central plateau of the Petrovaradin Fortress, ready to host spectacular performances by global and regional superstars such as Laibach, Robin Schulz, Roni Size b2b LTJ Bukem feat. Dynamite MC, Ofenbach, Burak Yeter, DJ Regard and many more to be announced. All of them will be joined by the region's finest bands such as Obojeni Program, Buč Kesidi, Massimo, Goblini, and many more who will be just as interesting replacements for some of the many live tours that are no longer available to book before 2021.
EXIT tickets can be found at exitfest.org for just £89 | 99 € + b/f, and for those who wish to bundle them with accommodation and local transfer, there are also packages starting from 149 €.