After setting a new benchmark in 2017, Black Coffee's Hï Ibiza residency is back once again in 2018 and now the next wave of acts for the 2018 season line-up for the world-class party can be revealed.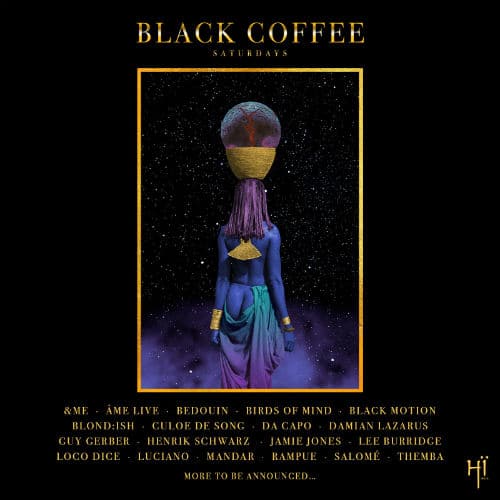 As already announced, Black Coffee's 20-week residency opens on Saturday May 26th with guests &ME, Audiofly, Blond:ish, Guy Mantzur, Mandar, Salomé, Serge Devant and Themba, then runs each week until October 6th, with a carefully curated mix of established stars from the worlds of house, tech, minimal and techno all lining up. New acts announced today include Âme live, Bedouin, Culoe de Song, Da Capo, Henrik Schwarz, Jamie Jones, Loco Dice, Luciano and many more.
At the centre of each party will be Black Coffee himself, the South African house artist who has established himself as a pivotal figure in the global scene. His productions include collabs with the likes of Drake, his fans include P. Diddy and his discography includes essential works like his award-winning Pieces of Me album. His DJ sets are sophisticated and colourful affairs laden with Afro samples, deep house grooves and throbbing drums that take cues from a wide sphere that takes in everything from Motown to soul, so really bring something new to the White Isle.
This first wave of names boasts plenty of acclaimed stars. Innervisions' main men Âme bring their impeccable live show and offer a spine tingling take on emotive deep house, while chief label artist Henrik Schwarz brings his jazz tinged house sound. Then comes Jamie Jones, whose deep tech house sound has become the defining genre of the last few years thanks to his own productions and famous Paradise parties. Desolat label boss Loco Dice is another internationally acclaimed artist with his own unique sound that fuses big, chunky drums with his own love of hip hop and house, and Cadenza label boss and long time minimal maestro Luciano always threads together the sort of infectious sets of techno, Latin percussion and stripped back house that sends crowds wild around the world.
South Africa's finest, Black Motion, Culoe De Song, Da Capo and Themba also star. Then come Rumors founder Guy Gerber, Crosstown Rebels label head Damian Lazarus, desert house duo Bedouin, dreamy house champion and All Day I Dream chief Lee Burridge, french duo Birds of Mind and cult minimal house trio Mandar. Add in further stars like &ME, Rampue and Salomé and you have a broad array of talents who all represent different but equally vital strains of dance music.
Finally, as previously announced, London based DJ collective and label bosses Housekeeping will begin their season-long Saturday residency in the Club (Room 2). Housekeeping's sell-out London shows have featured many acclaimed DJs, including Black Coffee himself, and the Housekeeping collective have played at some of the biggest international parties. Having captivated Hï Ibiza audiences in 2017 with their deep and hypnotic sets fused with tribal percussive elements, 2018 is set to be a big year for Housekeeping.
The home for all this musical magic is the already hugely influential Hï Ibiza. A slick club and cavernous space that boasts a powerful and state of the art sound system, LED lit dance floors and flamboyant dancers that all add plenty of visual colour and character to every party.
With further names to be announced, this is already shaping up to be one of the most essential residencies in all of Ibiza for summer 2018. Tickets on sale now at hiibiza.com.