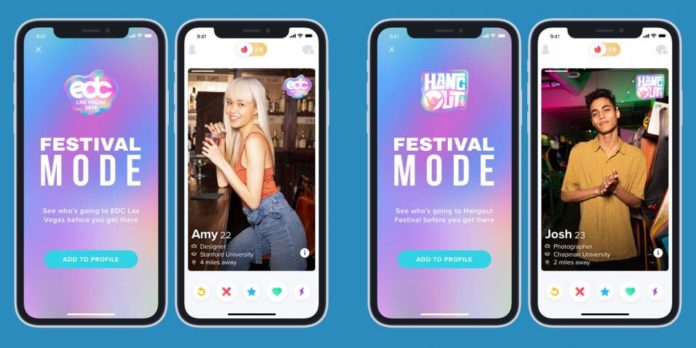 Just like music, music festivals and technology also need to evolve to cater to the desires of a growing audience.
Earlier this week Tinder partnered with the AEG worldwide and Live Nation to launch a festival mode in the US, UK, and Australia. This product aims at attracting and engaging the younger demographic with its feature of connecting singles at festivals.
Just like the Spring Break Mode that Tinder rolled out for the students in March, the festival mode will use badges on user profiles to indicate all upcoming destinations. These badges make it easier to spot which festival a user is planning to attend while swiping.
Tinder announced two days ago the festivals that are participating immediately with this festival feature – EDC Las Vegas (May 17), Hangout Music Fest (May 17), All Points East (U.K., May 24), Governors Ball (May 31), Parklife (U.K., June 8), Bonnaroo (June 13), Firefly (June 21), British Summer Time (U.K., July 5), Lovebox (U.K., July 12), Faster Horses (July 19), Hard Summer (August 3) and EDC Orlando (November 9).
With this mode, Tinder has made swiping and chatting possible even before arriving at the festival. The press release clearly stated –
"No longer are your connections limited to your campsite neighbors or whose shoulders you stood on during the headliner's performance, so put down your fringe boots and neon fanny pack because, thanks to Tinder, your festival game is now stronger than ever."
Jenny Campbell, CMO of Tinder said, "It's no secret that Tinder is a must-have app for singles attending music festivals around the world. We consistently see a spike in Tinder use as tens of thousands of music fans come together, so we wanted to create a new experience that makes it easier to connect with other concert-goers before even setting foot on festival grounds, We've partnered with some of the biggest names in the entertainment and events industry to make that happen, and we couldn't be more excited to help Tinder users find their crowd during these events for the rest of 2019."
Tinder decided to roll the festival feature after seeing a surge in user activity when they observed a spike by 36 times during the Lovebox festival in London followed by a 25% increase during the British Summer Time Festival. They also observed a 300-time increase in traffic on their app during the Bonnaroo music festival in Manchester. Tennessee.
The festival tool activates its functions 3 weeks before each festival! How many of you have already begin using this for EDC? Tell us below.
Latest posts by Paridhi Bhatiya
(see all)