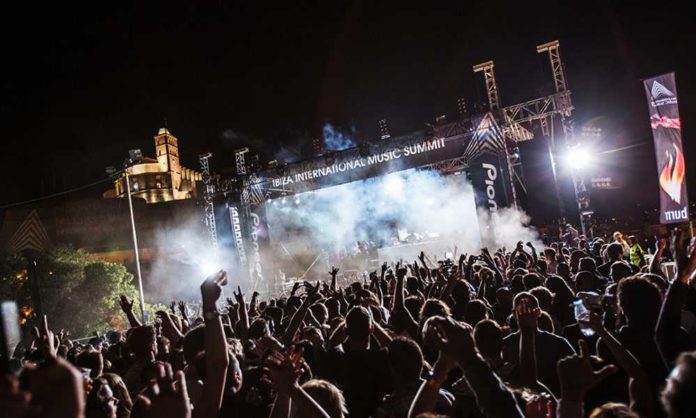 The International Music Summit (IMS), the three-day educational, inspirational and motivational thought-leadership platform held annually in the dance music capital of the world, Ibiza, has announced its first ten speakers for the special 10th edition.
The platform, described as "the TED of music conferences", has played an important role in shaping the music industry in Europe, North America and now Asia.
With 10 special keynote speakers, the summit presents a carefully curated programme of inspiring talks, technology masterclasses, networking opportunities and cutting edge events for its edition this year.
The organization are bringing Bernard Sumner from New Order back to Ibiza – where he wrote the entire lyrics to their 'Technique' album in a heavily documented feature that aired back in 1988/89. The mighty Dixon, top of Resident Advisor's coveted RA Poll: Top DJs and one of the foremost names in underground electronic music will also feature at the summit.
Grammy-nominated Masters At Work, 'Little Louie' Vega and Kenny 'Dope' Gonzalez will also be present to discuss their 25 year history and legacy while Mixmag's DJ of the Year, eclectic selector and club culture ambassador The Black Madonna will feature.
The Martinez Brothers – who have quickly become one of the industry's most respected acts – will also share the stage while Elrow's The Arnau Family will also talk about their journey.
Leading the digital conversations are Patrick Walker, Director of Media Partnerships at Facebook, and Austin Kramer – Spotify's Global Head of Dance/Electronic. Resident Advisor's founders Nick Sabine & Paul Clement will also discuss the role of digital media in music, while the legendary Gianfranco Bortolotti will round off the list revealed by IMS.
There's also plenty more to enjoy with the Dalt Vila event taking place on Friday 26 which will take place on top of a majestic 2,500-year-old UNESCO protected fort. There will also be a ceremony for the Pioneer DJ Award and the always intriguing Great Annual Ibiza Debate is also something to look forward to.
Speaking about the festival IMS co-curator Ben Turner had this to say.
"New Order, Dixon, The Black Madonna, Masters at Work, The Martinez Brothers… A true set of visionary artists – past and present. It's hard to believe it's been a decade since the first IMS. We've always tried to focus on a singular room of content to help create a dialogue for change and a shared experience – all too rare in today's fractured media landscape. This is really shaping up to be our biggest attendance to date and we hope it's the most informative yet… Even after ten years, it feels like our work is only just starting…"
A list of keynote speakers and events for this year's edition can be found below, along with the timeline of the life of IMS can be found below.
TEN KEYNOTES
New Order – Bernard Sumner (Artist, UK)
Dixon (Artist, Germany)
Patrick Walker (Facebook, Director of Media Partnerships EMEA, UK)
Masters At Work – Louie Vega & Kenny Dope (Artists, USA)
Elrow – The Arnau Family (Elrow, Founders, Spain)
The Black Madonna (Artist, USA)
Austin Kramer (Global Head of Dance/Electronic, USA)
The Martinez Brothers (Artists, USA)
Nick Sabine & Paul Clement (Resident Advisor, Founders, UK)
Gianfranco Bortolotti (Media Records, Founder, Italy)
IMS LEGENDS DINNER RECIPIENT
Ricardo Urgell (Pacha, Founder, Spain)
TEN TOPICS & TALKS
Meet The New Member Of My Band: He's A Coder (hosted by Young Guns Network)
Health Vs Hedonism (hosted by SheSaidSo & Native Instruments)
Masterclass – Playlists: Spotify Best Practices
Masterclass – Live Streaming: Facebook Best Practices
Three Decades of Dance: How Gianfranco Bortolloti Shaped Italian Dance Music
How To Make The Leap To Become An Arena Selling Artist
The LATAM Electronic Genre Explosion Evaluated
Digital Defined (featuring Spotify, Facebook, You Tube and more)
Diversity Debate (hosted by She Said So & Smirnoff Sound Collective)
Electronic Music Conference Curators – Unite & Serve
FIVE IMS REGULARS
IMS Legends Dinner 2017 – Pacha's Ricardo Urgell
IMS Business Report 2017 Revealed
IMS Pioneer DJ Award – Winner To Be Revealed
Breakfast Club (hosted by AFEM; She Said So; IMS)
The Great Annual Ibiza Debate (hosted by Ibiza Voice)
Purchase delegate badges here.