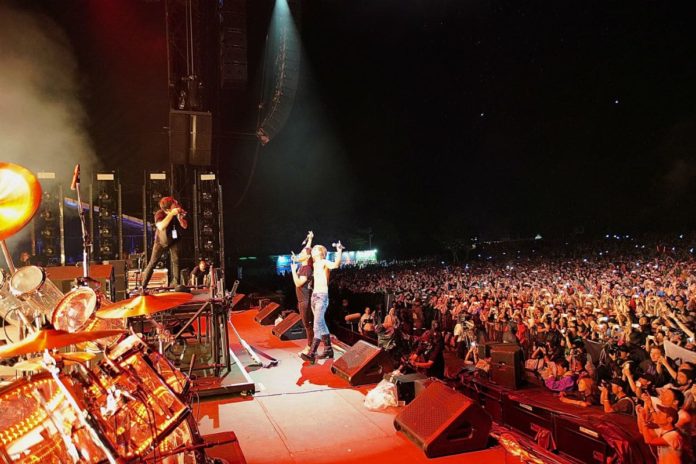 This past Saturday, July 28, YOSHIKI made a surprise appearance on stage with DJ and producer Skrillex at one of Japan's biggest outdoor music events, Fuji Rock Festival '18, held at Naeba Ski Resort in Niigata, Japan.
The 40,000 fans at the main stage were shocked by YOSHIKI's arrival, but soon began cheering and shouting for the unexpected collaboration between two globally famous artists. As Skrillex played a special mix he created for YOSHIKI, the latter began to perform X JAPAN's "Endless Rain" on a crystal piano. At the otherworldly intro, loud cheers shook the venue, and the voices of tens of thousands of fans sang the song's famous chorus while the Japanese record producer played, accompanied by Skrillex's guitar.
The Japanese song-writer then moved to his drum set for one of Skrillex's top hits, "Scary Monsters and Nice Sprites," creating an amazing fusion of classical and rock music with EDM. YOSHIKI shared his thanks with the audience, "Thank you, Skrillex! Thank you, everyone, here! You all are awesome!" Skrillex responded in Japanese "Domo Arigatou! (Thank you so much!)", gaining further applause from the audience. Fans continued chanting "WE ARE… X!" long after the Japanese composer left the stage.
YOSHIKI and Skrillex, a multiple GRAMMY-Award winner who is counted among the top 10 "DJ Mag Top 100 DJs," became fast friends when Skrillex visited the former's L.A. studio several months ago and pitched the surprise collaboration. YOSHIKI accepted enthusiastically and made last-minute changes to his recording schedule for the forthcoming X JAPAN album to return to Japan for the Fuji Rock Festival appearance.
After his performance, the Japanese musician appeared on YOSHIKI CHANNEL to talk about the event: "It was so satisfying! The fans were warm, and I was touched to hear from everyone. The audience was wonderful." Skrillex also joined the YOSHIKI CHANNEL broadcast and revealed the reason for choosing "Endless Rain." "I've visited Japan a few times, but this was the first song I sang here," he said. The pair talked further about being artistic comrades from different genres who mutually inspire each other.
"Like hip-hop expanded through collaborations," said YOSHIKI, "I want to expand as well and contribute to the revival of rock in this world."