Music is known to affect the brain and your mood in many fascinating ways. Research indicates that music stimulates emotions. Well, that is no surprise, and the 2018 Spotify Wrapped, has highlighted all the moods by age based on the streaming of mood–themed playlists, and capitalised on that by creating a special playlist for its listeners.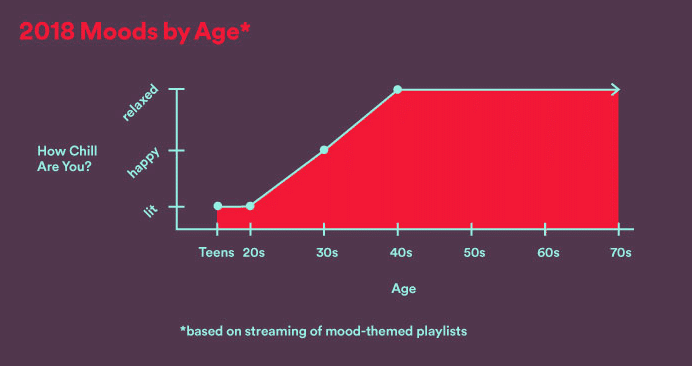 Every year has its ups and downs, but the 2018 Spotify Wrapped feature reveals a ton of information about a user's listening habits. The Wrapped feature helps you find your playlist in the "Made for You" section which can be found below "Your Library" column on the left. Additionally, you can also access the playlist by clicking on "Browse" and then scrolling down to the "Genres and Moods" section.
Now let's deep dive into what the moods of the listeners are in 2018. The teens up to 20 years of age streamed music that made them feel 'Lit' based on the playlists they heard. Listeners, 20 years and over, heard playlists that helped evoke 3 primary feelings that are, 'Lit', 'Happy' and 'Relaxed'. Yes, the most interesting part is that there is a certain segment of the 50 to 70-year-olds, who are enjoying playlists that help evoke the 'Lit' feeling. Well, that's amazing for all music producers out there, as the consumer market seems to be dipping their feet in all kinds of music if they evoke the feeling that they desire.
We now know how playlists are catering to a listener's mood. Having said that, let us dig deep into what are the most followed playlists on Spotify are. This is the moment that we take to appreciate Spotify for its effective ability to serve great music recommendations that help listeners discovers new artists and songs. Hence, the expertly curated playlists work very well for listeners who are in the mood for a certain vibe or genre. So which playlists are the most popular among listeners? According to the data revealed by 2018 Spotify wrapped the Top playlist is 'Today's Top Hits' followed by 'Rap Caviar', 'iViva Latino!', 'Baila Reggaeton' and 'Songs to Sing in the Car.'
If that data hasn't caught your intrigue yet, Spotify will have your attention with its new taste breakers playlist. This year, Spotify took the opportunity of adding an additional playlist for all users to create a heightened wrapped experience. Each listener can now enjoy the taste-breaker playlist and basis the genres and artists you have been listening to, Spotify will introduce you to new artists and new tracks that you might like.
Spotify now knows your moods based on the music you are streaming and learning from that they are making your music listening experience even better with the Tastebreaker playlist by helping you discover music according to your taste and moods while streaming.
If you still haven't checked your Spotify year in review yet, head to your Spotify app now.
Latest posts by Paridhi Bhatiya (see all)