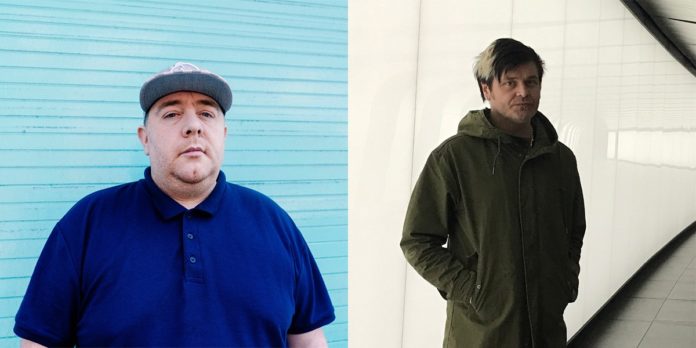 Dean Fullman (born 1978), best known by his stage name DJ Slimzee, is an English DJ who currently hosts a show on Rinse FM, returning from his previous show on NTS.
He is best known for his show on pirate radio station Rinse FM in the early noughties and its influential role in the development of grime music.
DJ Slimzee co-founded Rinse FM in 1994. For a three-year period in the early days of the station, the Rinse studio was hosted in DJ Slimzee's house. From the late 1990s, Slimzee was one of the first DJs to start introducing the dark new music coming out of the UK garage scene into his sets and throughout the early 2000s, he hosted a Sunday afternoon grime show which would regularly showcase some of the genre's best MCs. Many artists who featured on Slimzee's pirate radio shows went on to have mainstream success; he received a golden disc in recognition of his contribution to Dizzee Rascal's successful debut album, Boy in da Corner.
Paul Boylan aka Boylan is DJ/Producer and audio engineer based in London. Boylan is known as a UK's veteran in the Drum & Bass and Grime music scene. Boylan being into the scene for while have performed across remarkable venues such as Coronet Theatre, Five Miles along with multiple Vinyl releases.
To share their favourite Drum & Bass tracks, Slimzee & Boylan take over this week's "Mix Of The Week".
Tracklist:
00:00 Paranoid VIP – As If Kid
02:30 Chapter 2 – E3 Breaks
04:52 Mule – Loukidan
07:06 Strayz – As If Kid
09:23 Untitled – Youngsta Boylan
12:17 Dub War – E3 Breaks
14:20 Mouth Shaker – Trends
15:54 Babylon Bill – Caspa
18:10 The T-H – Oddkut
20:00 Silence Them – Caspa
22:05 Run From It (Slimzee & Boylan Rmx) – Nomine, Digital & 9er
25:08 6 Million Ways – DOK
27:24 LDNMSV – Boylan & Slimzee
30:10 ???- Garna
31:41 Right Hand Tun Left – Mystry
33:18 Clart Spot – Spooky
36:11 Thunderbirds – E3 Breaks
38:26 Ghastly Grinner 2021 – Oddkut
40:40 Unfleshly – DOK, Trends & Boylan
43:31 Angel Dub (Smoke Screen Rmx) – Garna
45:20 Pagan Dance – Scope
47:08 AMS Skengman – JLSXND7RS
49:08 Cursed – Boylan
50:57 Nuclear Meltdown – As If Kid
53:12 Suspense – Trends
55:54 Replicants – Boylan & Slimzee
57:16 Must Feel – E3 Breaks