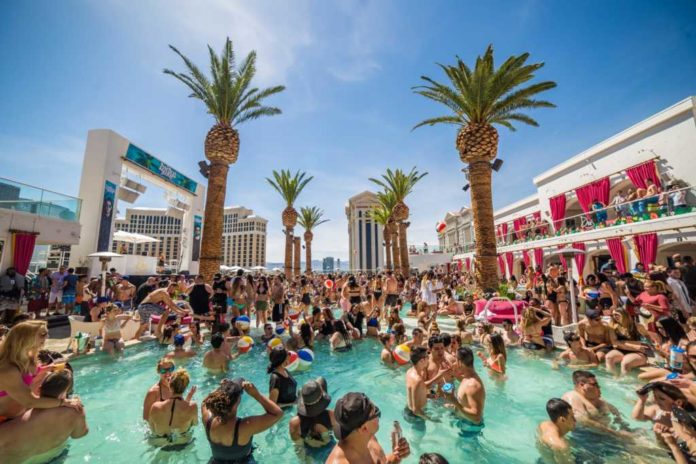 While COVID-19 came and engulfed the live music and events space and brought it to a screeching halt, resuming such events started to feel like a thing of the past with little hope.
While experts have said it loud and clear that they do not recommend large gatherings anytime soon, the Sin City has other plans.
Las Vegas has begun to resume its ways with Flamingo Hotel and Casino resuming the famous pool parties Vegas' day clubs are known for. After being shut down just 78 days ago, casinos have resumed almost business, as usual, making a lot of people happy and another large part skeptical about if its too soon.
While the Sin City has made itself clear that they're open for business, as reported by TMZ, the spaces are a lot less crowded for the time of the year. The Bellagio, MGM Grand, and Caesars Palace are some of the casinos that also opened its doors with restrictive measures in place, Flamingo Hotel and Casino was the first Pool party to make its return.
We can't wait to welcome you back to the Fabulous Flamingo today! Please remember to stay safe & follow our new health and safety protocols. More info https://t.co/I5V3B22VwL. pic.twitter.com/nPiuMDX58X

— Flamingo Las Vegas (@FlamingoVegas) June 4, 2020
While it came with its own set of rules, the staff was required to wear masks and gloves as well as sanitize high touch areas, among other measures. Here is a video about all the health and safety protocols being followed around the property.
While most argue it might be all too early, and that no one will go out just yet, videos of people all lined up getting temperature checked at every entrance and throngs of people in and around casino's are flooding the internet.
Las Vegas is officially back. pic.twitter.com/EI3nXs2e5w

— Arash Markazi (@ArashMarkazi) June 6, 2020
Latest posts by Melody Siganporia
(see all)