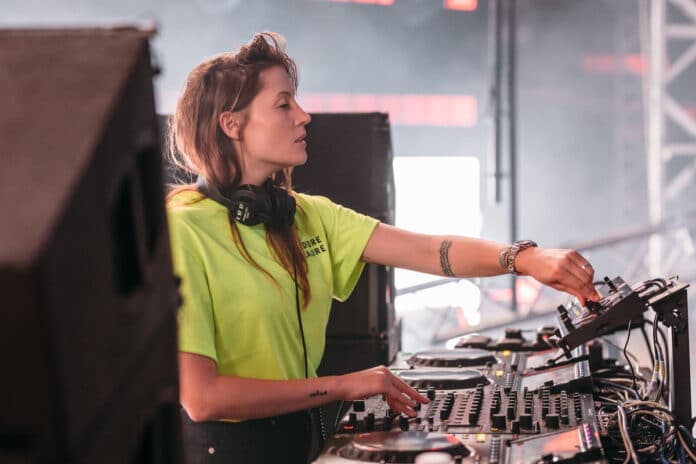 In an industry traditionally dominated by men, these women are rewriting the narrative and claiming their rightful place in the limelight.
These extraordinary artists are breaking barriers, inspiring millions, and paving the way for future generations. From commanding main stages to commanding respect, the top female DJs of 2023 are not only turning heads but also turning up the heat with their unparalleled talent and undeniable passion.
Let's dive into the world of these trailblazing women and discover the remarkable stories behind their rise to the top.
Charlotte de Witte: Known for her dark and powerful techno sets, Charlotte de Witte has become a formidable force in the electronic music scene, captivating audiences worldwide with her raw energy and meticulous selections.
Amelie Lens: With her mesmerizing soundscapes and expertly crafted sets, Amelie Lens has risen to prominence as one of the leading figures in techno. Her dynamic approach and infectious energy have made her a favorite among fans and fellow DJs alike.
Nastia: Ukrainian-born Nastia has earned a reputation for her impeccable mixing skills and eclectic musical taste. Whether playing techno or house, her sets are a masterclass in blending genres and creating a captivating journey on the dancefloor.
The Black Madonna: A champion for inclusivity and diversity, The Black Madonna uses her platform to challenge norms and create transformative experiences. Her eclectic sets blend disco, house, and techno, weaving together a tapestry of uplifting vibes and powerful emotions.
Peggy Gou: South Korean artist Peggy Gou has made a name for herself with her infectious blend of house and techno. Her vibrant productions and dynamic DJ sets have propelled her to international fame, showcasing her impeccable taste and infectious energy.
Nina Kraviz: With her hypnotic techno sound and magnetic stage presence, Nina Kraviz has become a prominent figure in the global electronic music scene. Her unique style and deep connection with the crowd make each of her performances a captivating experience.
ANNA: Brazilian-born ANNA is celebrated for her driving techno beats and captivating stage presence. Her ability to craft tension-filled sets and deliver powerful drops has solidified her status as one of the industry's most exciting talents.
Helena Hauff: Known for her raw and gritty approach to electronic music, Helena Hauff pushes boundaries with her blend of electro, acid, and industrial sounds. Her unique sonic identity has gained her a dedicated following and critical acclaim.
Maya Jane Coles: A versatile artist, Maya Jane Coles has made waves in both the house and techno scenes. Her intricate productions and soulful DJ sets showcase her musical depth and ability to create captivating sonic journeys.
Nicole Moudaber: Nicole Moudaber is a true force in the techno realm, known for her driving beats and dark atmospheres. Her expertly crafted sets, filled with powerful grooves and relentless energy, make her a standout presence in any lineup.
Deborah De Luca: Italian DJ and producer Deborah De Luca has gained worldwide recognition for her high-energy techno sets and captivating stage presence. Her infectious energy and relentless beats keep crowds moving and create an electrifying atmosphere.
Magdalena: German artist Magdalena is known for her enchanting and melodic sound, effortlessly blending deep house and techno. With her emotive selections and seamless mixing, she creates immersive experiences that transport listeners to new sonic dimensions.
Paula Temple: Paula Temple is an innovator in the techno scene, known for her experimental and boundary-pushing sound. Her sets are a whirlwind of intense beats, glitchy textures, and mind-bending rhythms, challenging listeners to dive deep into uncharted sonic territories.
Rebekah: With her energetic and driving techno sound, Rebekah commands dancefloors with relentless force. Her dynamic sets are filled with pounding basslines and pulsating rhythms, delivering a dose of pure adrenaline that keeps the crowd on their toes.
Ellen Allien: Ellen Allien, a true icon of the electronic music scene, has been pushing boundaries for decades. Known for her unique blend of techno, electro, and experimental sounds, she crafts captivating sets that take listeners on a journey through mesmerizing sonic landscapes.
Maceo Plex: Maceo Plex is a renowned DJ and producer who seamlessly blends elements of house, techno, and electronica. His immersive sets are characterized by deep, emotive melodies, infectious grooves, and a touch of melancholy, creating a captivating atmosphere on the dancefloor.
Ida Engberg: Ida Engberg is known for her captivating presence and seamless mixing skills. With her deep and melodic techno sound, she creates an enchanting atmosphere that keeps the crowd in a state of euphoria throughout her sets.
Monika Kruse: Monika Kruse is a true pioneer in the electronic music scene. Her deep and groovy sets effortlessly traverse the realms of techno and house, showcasing her impeccable taste and ability to create an infectious energy on the dancefloor.
Each of these talented women brings a unique style and perspective to the electronic music scene. Their contributions and performances have helped shape the landscape of electronic music and continue to inspire audiences around the world. Whether it's through their powerful techno beats, melodic journeys, or experimental sounds, these artists have proven themselves as forces to be reckoned with, pushing boundaries and captivating the hearts and souls of electronic music enthusiasts everywhere.
Note: The list comprises a diverse range of female DJs, each with their own distinct style and contributions to the industry. This compilation is not exhaustive, as there are many more talented female DJs deserving of recognition. If you would like to share any that aren't on the list, please drop in a comment!