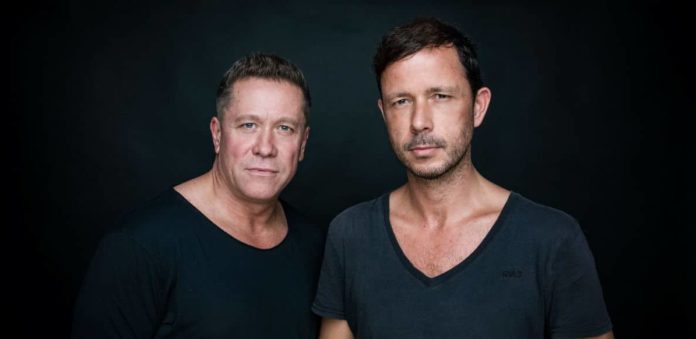 German trance duo Cosmic Gate are artists that every trance listener is familiar with.
From releasing classics such as "exploration of space" and having been around as a part of the industry for over two decades, Nic and Bossi have been through quite a journey for sure. Encapsulating their journey in one compilation, they recently released a brand new LP that takes you through the journey they have been through.
A perfect mix of old and new, we sit down with the legendary duo and talk about the compilation, the state of the trance scene and a lot more!
Shivani – Hey Nic and Bossi! It's great to be speaking to you'll! How has 2019 been treating you till date?
Cosmic Gate – Hello, nice to speak to you as well, thanks for having us :)
what can we say, 2019 definitely has been a great one for us so fat, starting with the Grammy nomination for our G&D Only road remix, then the 20 year anniversary tour started on NYE in Australia. During the whole time on the road, we still have been in the studio and continued working on the album. It was very intense but in a good way, we are beyond happy how the music turned out and can't wait for our anniversary Album, which is called 'Forward Ever Backward Never', to finally get released on August 23rd!
Shivani – Firstly, how did the concept of "Forward Ever Backward Never" come about? What was the idea behind the LP and the title?
Cosmic Gate – With FEBN we celebrate our 20 Year Anniversary, and that's why we felt it makes sense to feature music from different stages of our career. The album holds tracks that inspired us during the years, tunes
we felt we want to show our respect and tribute to, like NTFL and Lizzard. On top of that, own tunes from the past, that have been remixed by dear colleagues or ourselves. Some new music, of course, can't be missing either, like our current single 'Light Years', giving an outlook on directions we possibly head to in the future.
The whole album overall turned out very clubby, and we enjoy to have so much new and exclusive music for our current DJ sets. The name, FEBN stands basically for our career, the way how we see and handle things, it's a motto basically; we always try to push musical boundaries forward, as producers and DJs. From gig to gig, from single to single, always ending up in a new, kind of updated sound!  Maybe compare album to album and we hope that you agree…
Shivani – What was the track selection process for the LP like? Where there any tracks that didn't make it to the list?
Cosmic Gate – What can we say, for every album the selection process, in the end, is the same. If we like it and it fits our idea and the style of the album, we release it, nothing else but our taste and our gut feeling are making the selection process here. And yes, for every album there is basically tracks that do not get ready on time, or that have great basics ideas but in the end, they are not finished yet for a release. We are lucky enough also this time there are a few good ones that are still waiting for a release after the 20-year album as well, but let's focus on this one first :)
Shivani – If you had to list out one thing that you really liked about the trance scene and one thing you weren't particularly fond of, what would it be and why?
Cosmic Gate – The one thing we always feel that separates the trance fans from let us say, regular EDM goers, is the Trance fans are absolutely loyal and have a love for their sound and DJ. We feel, that trance fans are true music lovers and are very educated about what's happening in the scene and around their DJs and labels, while a lot of other scenes more seem like music consumers to us, people that go to festivals more for the overall happening and entertainment character, and less for a specific music or sound. This is not bad or to be judged, its simply the big difference to a true Trance fan, who might just be at the Trance stage all day and not leave for the Main stage at all… On top this whole trance family feeling is very unique, no other scene is so organized and gives the fans such a feeling of belonging together, or be united in their choice of music. This is what we absolutely like about the Trance scene. All this, on the other hand, results in some cases, fans to be maybe a bit overly critical by giving Trance DJs a hard time when they may be experiencing a bit out of the typical Trance genre, which actually for an artist should be only fair enough. Positively though, we see a lot of Trance fans these days go to more electronic DJs and club nights too, enjoy different music, and this is good, we love some good progressive or melodic techno too, for example, and being open-minded in life does not stop when it comes to producing or listen to music…
Shivani – You also went on tour for the album and covered over 30 cities. How was it like?
Cosmic Gate – In short, the tour has really been nothing than fabulous. :) As mentioned before we have been starting NYE in Australia, then mostly touring the US, Europe, and Asia as well. It was a mix of proper Club and big ticketed venues and it was awesome to see such a great mix of fans, from the younger, newer generation that found us more recently maybe for the Materia series, blending and mixing with fans that have been following us through basically the past two decades. Some that came to dance had their Cosmic Gate Vinyl from '99 signed. According to the ratio of the fans and to fit the theme, we have also selected our music. We played new and unreleased music from FEBN and went on a nice journey through the music repertoire we have produced and collected during the years, towards banging out the old classic tunes at the end of the show. it was such a blast, thanks to everyone that came by and made us have such a great time on stage and help make our anniversary such a special one for the books!
Shivani – If you could get one artist to remix one classic Cosmic Gate track, which track and which artist would you pick and why?
Cosmic Gate – We are super happy with the talent we had the pleasure of mixing tracks for our anniversary album. Guys like Andrew Bayer who did a spectacular Remix for 'Fire Wire', or Ilan Bluestone who laid hands on our Emma Hewitt collaboration 'Be Your Sound', to mention just two. there is quite a few more, adding new aspects to our music, creating something new, fresh and unexpected sometimes; please feel free to check them out!
Shivani – What does the future of the trance scene look like according to you?
Cosmic Gate – This is a hard to answer question, if we only knew :) We feel Trance is so diverse already, many different styles are out there and existing together. There are lineups, with 5 different Trance DJs on one stage, and every single one of them somehow has their own kind of sound – and this is awesome, isn't it?  Music always has to evolve, producers need to come up with fresh new ideas, push boundaries forward and let influences from other music genres possibly create something new. We need open and creative minds and we see them around, so sure the future will be bright for club music and Trance as well.
Shivani – What does the rest of 2019 hold in store for you?
Cosmic Gate – Right now we are close to the release of the album, it's a big milestone for us and we celebrate it while touring in Europe throughout August still. After that we will head back and forth for more shows; basically non stop between the US, Asia, Australia, South Africa and back to Europe. On these shows, we are looking forward to playing out all our new music. For later in Fall we have the next release planned already, but first things first, let's focus on FEBN for now, we hope you guys enjoy the album, Thank you very much for having us, till the next time. :)
Latest posts by Shivani Murthy
(see all)