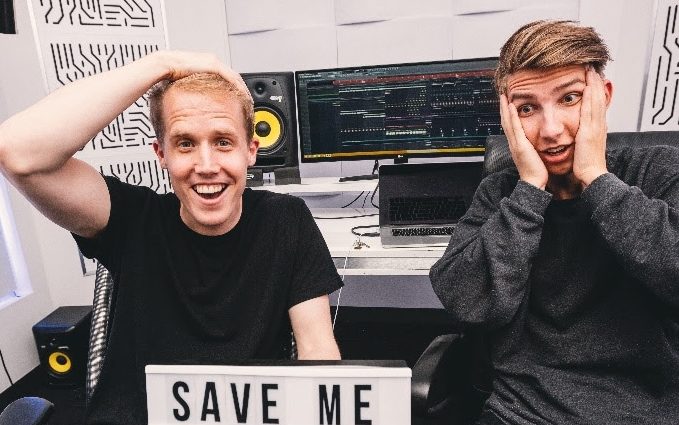 Dutchies Jay Hardway and Mesto team up to save your life! Their new single 'Save Me' starts of soft and uplifting, guided by a female voice, building up suspense until the catchy and bouncy drop kicks in.
The mood shifts into a more intense setting when the male vocal takes over, finally joined by the female vocal bringing the track into that perfectly balanced state.
The idea for the two of them to work in the studio together has been on the table for quite some time.
"We knew each other through other producers and were familiar with each others music. We decided it would be a cool idea to work on something together. Mesto sent me a drop in early 2017 which already sounded quite a lot like the drop of 'Save Me' today, and I really liked it. Because of our busy schedule we were not able to start working on it until early 2018. But that does not matter for the end result, because we are really happy with the way this track came out!" – Jay Hardway
"Working with Jay Hardway was really cool! I really like his own music as well so that made it really easy to work with him. We met each other 3 years ago I think, and from that point we kept in contact. I am excited for 'Save Me' to be finally released and super thankful for all the early great responses & support ofcourse!" – Mesto
Jay Hardway
Proven to be one of the dance scene's most exciting well-loved names, Jay Hardway continues to add new tracks to his formidable discography alongside a burgeoning global tour schedule. Releasing many successful collaborations, like the recently released 'Jigsaw' with The Him, Jay is also notable for his solo endeavours in which he can show us his love for beautiful melodies the most. With the likes of 'Bootcamp', 'Electric Elephants', 'Somnia' and 'Golden Pineapple' he has taken us on a journey with his complete and diverse spectrum of sounds. On the live side Jay is also unstoppable, gracing the stages of the world's biggest clubs and festivals such as Tomorrowland, EDC New York, Hakkasan Las Vegas, MTV Mobile Beats, Sziget, WiSH Outdoor, Creamfields Brasil, Electric Love, Pacha NYC, AMF and Mysteryland to name a few.
About Mesto
Mesto is one of the biggest talents in the Dutch dance scene. His name started to surface back in 2015 when he released the hit 'Bouncy Bob' together with Martin Garrix and Justin Mylo. This resulted in a #1 position in DJ Mag's 2016 upcoming dance talent list. Multiple club tracks followed, such as collab 'WIEE' with Martin Garrix, 'Chatterbox' with Fox Stevenson, and the on Tiësto's Musical Freedom released collab 'BRUH' with Curbi. While touring in Europe and overseas, Mesto kept contact with Tiësto. This led to their collab 'Coming Home', which was included as one of the four tracks on Tiësto's special EP released in March of this year, racking up over 5 million Spotify plays to date. Besides releasing new tracks, the young talent is occasionally touring. Upcoming shows include Parookaville in Germany, Neverland Festival in The Netherlands, and Black Sheep Festival in Croatia.