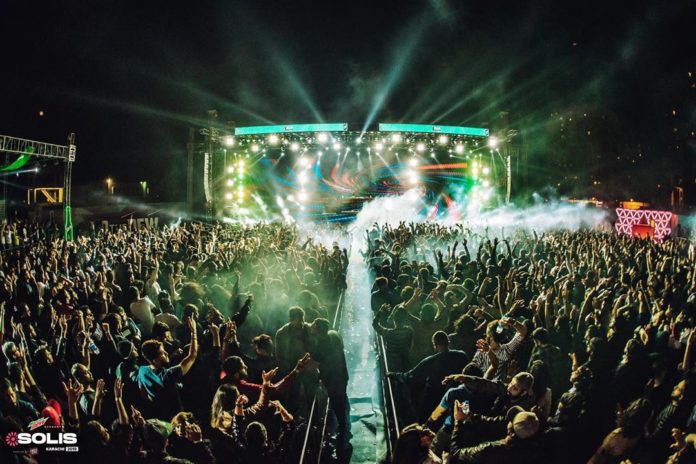 Festivals are places for good times, celebration and a safe space for all music lovers to come together. Or so they should be at least.
Solis Music And Arts Festival which took place at the Pakistan National Council of Arts (PNCA) in Islamabad, Pakistan, last week on February 15, 2020, however, ended up being nothing short of a nightmare for those who attended. With a lineup that featured some international names like Dannic and Julian Jordan, this was the fourth edition of the festival. From horrifying reports of stampedes and injuries as fake ticket holders swarmed into the venue, to accounts of women being groped and molested in the midst of the chaos, all hell broke loose on those festival grounds.
Videos further go on to show people getting frustrated and climbing onto the stage and thrashing and destroying things since the organizers had to put a stop to the music due to the unmanageable influx of fake ticket holders. There are also reports that the elevated VIP section came crashing down as it got overly crowded. Social media has been ablaze with videos and stories of the monstrosities the attendees had to go through.
From mismanagement to over populated event from breaking VIP lounges to destruction of stage, one can easily navigate that we are intolerant society as a whole that needs schooling badly I REPEAT BADLY #Solis #solisfestival #Islamabad pic.twitter.com/MxAqNiBhlM

— SUMAIRA RAJPUT (@sumaira_rajput) February 16, 2020
Phadda During #Solis Musical evening organized by Mountain Dew in Islamabad on 15 February 2020@IslamabadScene @MountainDew @Islaamabad @livemusicblog pic.twitter.com/JmYGTtke77

— Adnan Hameed عدنان حمید (@AdnanHa65560820) February 15, 2020
While there seemed to be no one owning up or taking any responsibility after numerous allegations of women being molested and groped in the midst of this chaos, things have taken a legal turn. The company that manages the events has been blacklisted and slapped with an FIR making them responsible for the lack of management and security leading to these hellish conditions.
This was the company's response on social media.
While this wasn't the first event by the organizers, it was the first one to go south this bad. There is a call to work with the police to take action against those responsible and hold them accountable. Based on the allegations of one of the females in attendance who was grossly misbehaved with, an FIR has also been filed according to a tweet by the Deputy Commissioner of Islamabad.
One Instagram user named Shanza said: "[The stage] was almost seven feet high and I lost consciousness for a minute. All I remember is me struggling to get up and a guy starts snatching my bag. We're getting stamped upon and literally no one's helping… [people] start touching, groping and harassing us. Where are you now Solis festival? How are you planning on compensating the physical pain, mental trauma [and] sexual harassment?"
Another more detailed report read,
A woman attending #SolisFestival last night shares her horrifying ordeal.

She + friends were harassed and sexually assaulted by male concert goers, gatecrashers. They were injured by a falling platform.

Event organisers failed on every level.

Who's going to answer for this? pic.twitter.com/hF5j0Q4I2v

— Hamna Zubair (@hamnazubair) February 16, 2020
FIR is being registered. Report is ready. Inquiry is under process. @ICT_Police. Company is already blacklisted and will not be allowed any future event in Islamabad. https://t.co/wFJs3ffYj9

— Deputy Commissioner Islamabad (@dcislamabad) February 16, 2020
Latest posts by Melody Siganporia
(see all)