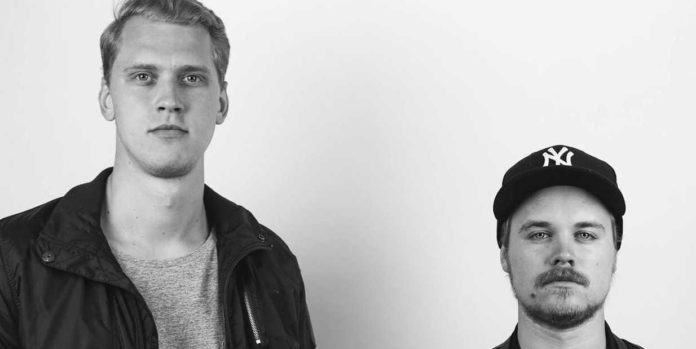 Rob & Jack open up in a revealing interview with T.H.E – Music Essentials

They confess to be being big fans of Sebastian Ingrosso and Refune Music

The duo talk about their musical style and admit that it's hard to for them to define their music

Swedish duo share how Axwell Λ Ingrosso have played a big part in inspiring them
Since bursting on to the scene but a few years ago, Rob & Jack appear to be following in the footsteps of some of their Swedish countrymen yet their sound and vivacious personalities are all their own.
Their latest offering has had a relick from the DJ duo Lundebros and John Dählbacks' alter ego, BROHUG, that gives it the deep down and dirty yang to the electro duo's yin.
We caught up with the duo to discuss their musical style, their dream collaboration, working with Seb Ingrosso and plenty more. Have a read! :)
T.H.E – Hi, Rob & Jack! Thank you for taking the time to chat with us today. How are you both?
Rob & Jack – Hey guys! thanks for letting us chat with you! All good over here!
T.H.E – 2017 is already shaping up to be a big year for you with the release of the new single. How did the idea for 'El Chupacabra' originally come together?
Rob & Jack – We wanted to do something Latin-inspired so we started working on some Latin percussions and guitars. We soon realized we needed a vocal for the break, so we said to ourselves we would try to record something. In the meantime, we had the Toto la Momposina sample over the breakdown – but the more we listened to it, we released that it fitted perfectly and that's basically how the song came about!
T.H.E – We're big fans of BROHUG's edit of 'El Chupacabra' here, too. How did the team- up with BROHUG come about?
Rob & Jack – When Refune decided to sign the track it was late summer and the vibe was perfect for the Ibiza season and for 2016 in general, but a lot of stuff came in the way for the release and suddenly, it was 2017! So, we felt like upping the track to a more '2017' type of track; Refune and Sebastian pitched the idea of letting BROHUG put their signature sound on the track, and the result turned out really cool!
T.H.E – Releasing music on Sebastian Ingrosso's label Refune must be a fantastic feeling – congratulations! Can you tell us a bit about how you ended up working with Sebastian?
Rob & Jack – Thank you! Yeah it feels really cool! We've been big fans of Sebastian and Refune since we were kids so it feels really special for us to have a release on his label. Sebastian had been playing some of our tracks including 'Badgal' and our remix of Salvatore Ganacci, and after that remix we had a meeting with Refune and pitched some songs – one of them was El Chupacabra. We actually met Sebastian in person once in Amsterdam after his show at the Heineken Music Hall last year – we were all super tired and little drunk at 4 in the morning so it was just a brief chat, but we've been hearing from friends and people we know that he speaks well of us and that truly means a lot.
T.H.E – You've also released some brilliant tracks on Tom Staar's label Staar Traax, including the dancefloor hit 'Sunshine'. What have been some the highlights of working with Tom?
Rob & Jack – We've been working with Tom quite a lot over these past couple of years and we always learn new stuff. He's an extremely talented producer and his mixdowns are insane! It's always exciting to hear the send-backs from him cos' you know it's gonna sound great!
T.H.E – What would you say defines your musical style? Much of your music seems to incorporate a strong 'feel-good', carefree element to it – perfect for summertime!
Rob & Jack – A lot of people seem to be able to recognize "Ok, this is a Rob & Jack track", but for us it's kinda hard to define our music sincerely like most kinds of music. However, something that we try to keep in all our tracks is a strong groovy rhythm that makes you wanna dance and on top of that it can basically be anything!
T.H.E – What surprises do you have lined up for the rest of 2017?
Rob & Jack – They wouldn't be surprises if we told you them now would they? ;) … But we're working on a lot of new stuff and we've been experimenting with a lot of new sounds and collaborations during the winter – we're super excited to show everybody what we've been up to!
T.H.E – With whom would be your dream musical collaboration and why?
Rob & Jack – Definitely Sebastian and Axwell; they've played such a big part as inspirations in our music for a long time and we've been following them since they played small clubs here in Stockholm back in the days.
T.H.E – What keeps you both motivated?
Rob & Jack – A lot of stuff – of course our fans and when things go well for our friends. Also knowing what you're working towards and setting up goals is super important; both personal goals and goals for us together as a duo. Working without a plan can sometimes be cool but for us, but it's important to remember what we're working towards when we've been working until midnight in the studio and have to get up at 5am the next day to go to work. We have a bulletin board in our studio where we post pictures of stuff we want to achieve and it's the first thing we see when we walk in every day!
T.H.E – Where can we catch you playing out some house anthems in the next few months?
Rob & Jack – We have a couple of shows throughout Europe these coming months, but we'll announce everything in time on our socials so make sure to follow us!
T.H.E – Thanks, guys! We're looking forward to seeing what's up next for you both.
Rob & Jack – Pleasure, thanks for having us!
Check out Hour 1 from this week's episode of T.H.E – Podcasts, which features a monster guestmix from the duo featuring some of the best and the latest electro house tunes out there!
Tracklist
1. Intro
2. Rob & Jack – El Chupacabra (Brohug Edit)
3. Garmiani – Bomb A Drop
4. Diplo & Autoerotique – Waist Time
5. Tom Swoon & Teamworx – Atom
6. Steve Angello feat. Mako – Children Of The Wild (Simon De Jano, Madwill, Still Young Remix)
7. Simon Alex & AK9 – Badlands
8. Rob & Jack – Do My Thing w/Eric Prydz – Generate
9. Sunnery James & Ryan Marciano – Don't Make Me Wait
10. Frank Caro, Crazibiza, Alemany – Fresh (Charles J Remix)
11. Tom Staar, Rob & Jack – Sunshine
12. Ingrosso – Dark River (Olin Batista Remix)
13. Supermode – Tell Me Why (Steve Z 2K17 Remode)
14. Axwell /\ Ingrosso Feat Kid Ink – I Love You (Cid Remix)
15. Djerem, Hiisak – La Paz
16. Thomas Newson, WILL K – Saxo
17. Salvatore ft. Enya & Alex Aris – Dive (Rob & Jack remix)
18. Skrillex, MUST DIE! – VIPs
19. D.O.D – Taking You Back (Afrojack Edit)
20. Alesso – Falling (Brohug Remix)
21. MR.BLACK, 22Bullets, Richie Loop – Badman
22. Rob & Jack ft. Sanjin – Badgal w\ Axwell & Sebastian Ingrosso – We Come, We Rave, We Love w\ Skrillex And Diplo – Jungle Bae (Feat. Bunji Garlin)
Read more about Rob & Jack – El Chupacabra (BROHUG Edit)