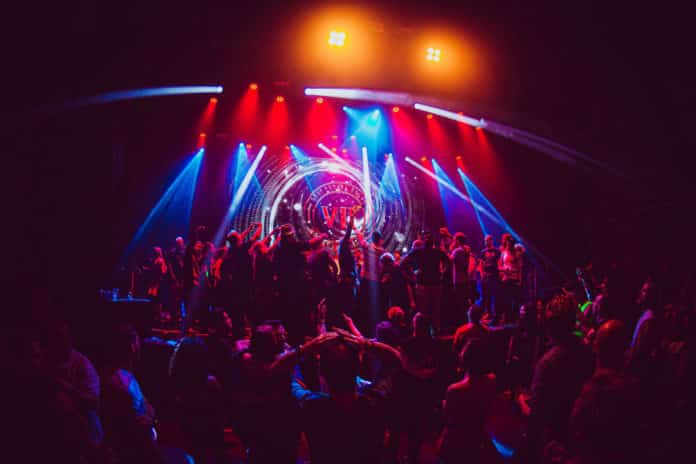 On the 30th of November 2019, I attended my last rave of the year which was the VII night in Amsterdam.
The event was organized and promoted by Luminosity Events and took place at the Q Factory which is the new home for the VII night and more trance events in the future.
If you've attended Luminosity events in the Netherlands then you are familiar with Panama Club where most of the Luminosity events are hosted. Aside from Luminosity Beach Festival that takes place in Zandvoort by the beach.
I was thrilled to try a new venue when I knew that it'll be at the Q Factory and it definitely exceeded my expectations. Luminosity owner Bo van Eck and his team did a super job picking out the new home for our beloved trance parties and it made our experience unforgettable. The venue had an outstanding sound system, lights, and lasers. It was a cozy atmosphere and everything was easily accessible. Fair to say that the Q Factory is my new favorite place to rave.
For those of you who aren't familiar with the VII, it's a record label that John Askew envisioned throughout his musical career and it came to life in 2016. The VII consists of the unique sounds of 7 producers: Simon Patterson, Avalon, John Askew, Will Atkinson, Sean Tyas, Alex Di Stefano, and Orkidea. They also go by "VII Crew", "Shadows" and "The Sounds Of Seven". A very cool and unique name and concept, and it makes me feel like I'm going to some comic book superheroes show not just a music show. Trance warriors if you will.
The VII night in Amsterdam started with a meet and greet with the DJs and all the fans to chat and take photos. It was a great way for everyone to get to know each other a bit more on a personal level.
Orkidea was the first act of the night and he took us on a beautiful journey with the progressive vibes to warm us up. the VII delivered excellent sets and Sean Tyas closed the night in style. Towards the end of the night, MC Da Silva asked the crowd to come on the stage while Sean Tyas was playing his last song. It was a beautiful intimate few minutes between all the DJs and all of us dedicated trance heads.
📸 Jeffrey Bron
During the VII night, I had a chat with Simon Patterson about his future plans for 2020. Simon is known for classic tunes like "F-16" and "Us" which is my own personal favorite for him, his vocal tune collab with Lucy Pullin "Now I Can Breathe Again, the tech banger "Roll The Credits" and many more tunes. Earlier this year, Simon mixed Solo Vol. 1 album which is a new annual mix album on VII label and also released a beautiful vocal track with Lucy Pullin titled "Blink".
Nora – What are your near-future plans? Should we expect new releases soon?
Simon Patterson – I have my new single "Kick Bass Acid Loud" coming out in Jan 2020 then two new vocal tracks one is called "Parachutes" and the other is unnamed at the moment both due for Armind. Also, a collaboration with Paul van Dyk in March. After that, I want to focus on rebranding Open Up and to start working on an album.
Nora – "Kick Bass Acid Loud" is a dancefloor destroyer if you ask me! And an album that's awesome news. Do you have a name picked out yet for the album? And are there going to be collabs with other producers?
Simon Patterson – No name picked out yet. I haven't discussed collaborations but I will be working with a lot of songwriters. I want the album to have a lot of songs.
Nora – You're playing ASOT950 (A State Of Trance) in Utrecht in February. Is this your first time playing ASOT? And are you excited? What should we expect from your set?
Simon Patterson – No I have played ASOT a lot of times. It's my first time in a few years to be back. I want to air a lot of my new singles on this show. A lot of work to be done before that though.
Nora – What does being a part of VII mean to you? And how did it all start? What motivated you to be part of VII?
Simon Patterson – Being a part of VII means the world to me. These core of people for me are the best at what they do so I am delighted to be a part of it. VII started with John Askew coming up with the idea of starting a nice label focusing on only quality releases from 7 artists. So one single release a year from each of us. Plus maybe a remix. From there it's grown to all of us doing our own shows and having our own stage at big events. The success and hype are overwhelming. We have a unique following from the fans, almost like a cult.
The VII have been getting bigger and stronger in the trance community, with their Latin logo motto "Adde parvum parvo magnus acervus erit" which translates into: "By adding little to little there will be a great heap".
They hosted their own stage at Tomorrowland 2018 and will be hosting their own stage at the UnKonscious Festival in Phuket, Thailand next February. Also, all of the VII shadows squad will be performing on Friday, June 26th, 2020 at Luminosity Besch Festival.
An exciting year ahead with so many raves to look forward to. And always remember as the Amsterdam Dance Events signs say: "Think for yourself & care about others. Celebrate safely". See you all on the dancefloor!
Follow the VII on social media, Spotify and YouTube to stay up to date with their latest news and new releases.