JOEYSUKI is a one-of-a-kind DJ & producer from Tilburg, Holland. With more than 50 releases over the past five years, JOEYSUKI has proven that he's a musical powerhouse!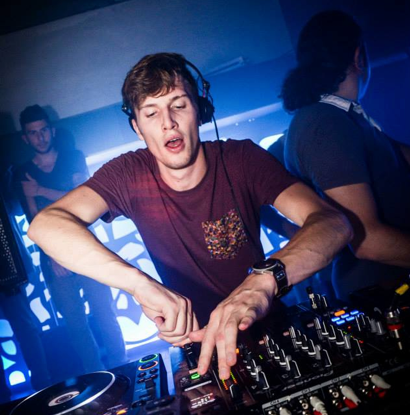 Joey has polished his productions into a clear, unique sound which has seen him have releases on major international labels like Spinnin', Flamingo, Toolroom and Revealed Recordings. In addition, he has collaborated with the likes of Firebeatz, Hardwell, Apster and Kill The Buzz. With an ambitious schedule of international touring, an energetic sound, and his very own label, JOEYSUKI is taking his career to the next level!
T.H.E – Music Encyclopedia got a chance to catch up with exciting talent, JoeySuki. Check out our exclusive interview below where we talk about his time in India, his collaboration with Kill The Buzz and the ever-increasing issue of "Ghost Producing"!
T.H.E – How has India been so far? Have you enjoyed your time here?
JoeySuki – Yes definitely! The people have treaten me well and the parties were great!
T.H.E – Your collaboration with Kill The Buzz, "Life Is Calling" received a fantastic response. Was it something you expected, probably because of the fact that it was released on Hardwell's Revealed Recordings?
JoeySuki – No not really, I knew that Revealed is a big label and that a lot of people listen to their releases but every track needs to prove itself from being a good track, no matter on which label it's released. So it was still exciting to hear that it got a lot of responds from DJ's and radio!
T.H.E – How did you get into production? Was it something that you always wanted to try out?
JoeySuki – No I started of DJ'ing in my hometown at the local bars and clubs and my nephew was already busy making music at that time. I joined him in the studio for a couple of times and that got me hooked! I decided to buy my own gear en get started with it so I just locked myself up in the studio for the first year and it got my first release!
T.H.E – Which DJs did you aspire to be like, growing up in Netherlands, a country which has given birth to some of the most renowned DJs in the global dance music scene?
JoeySuki – When I began producing music I justed wanted to get my music out there. It's not that I had a big producer that I was looking up to but I just wanted to created something of my own and put it out in to the world!
T.H.E – One track you have been playing a lot lately in your sets.
JoeySuki – Afrojack ft Wrabel – Ten Feet Tall (Quintino Remix)
T.H.E – Recently, there has been a lot of talk about Ghost Production. What is your take on it?
JoeySuki – It's something that has been going on for years now but it just has seen the daylight and that's why it became a discussion. Pop stars do it all the time! In my opinion as a DJ, you should be able to create your own music because it seems hard to me to get satisfaction out of playing 'your own track' when you didn't even created it yourself.
T.H.E – Which JoeySuki track is a personal favourite of yours?
JoeySuki – I still like my first release on Revealed Recordings called "Dig.It.All."
T.H.E – You are a world renowned DJ and hence, you must have played at some of the biggest electronic music festivals worldwide. Which was the best crowd you have played for?
JoeySuki – It's hard to say which one was the best crowd because I've seen a lot of places where people partied from starting to end haha. I must say that my experience is that outdoor parties are better most of the time because people are in a good mood.
T.H.E – What can we expect from JoeySuki in 2014-15?
JoeySuki – My new track will be released on Ultra Records soon and the remixes of my latest track "aftermovie" will be out soon on my own label Dubbed Records.
T.H.E – Any message for your fans in India?
JoeySuki – Thanks for supporting me all the time! It means so much for me to finally play for you guys here. Hope to be back soon!
Connect with JoeySuki:
Website: http://www.joeysuki.com/
Facebook: https://www.facebook.com/joeysuki
Twitter: https://twitter.com/joeysuki
Soundcloud: https://soundcloud.com/joeysuki
YouTube: https://www.youtube.com/user/joeysuki