New York City is a melting pot of cultures and the home to a multi-genre festival in the truest sense, Electric Zoo.
In its 11th year in the Big Apple, Electric Zoo: Evolved is all set to take place over labor day weekend from August 30 to September 1, 2019, at its Randall's Island home.
Themed upon the metamorphosis of a caterpillar into a butterfly, Electric Zoo: Evolved is the oncoming of the new with inspiration from that very theme. With a stacked lineup with names like Eric Prydz (2 sets!), Zedd, Above and Beyond, Armin Van Buuren and Dog Blood (Skrillex b2b Boys Noize) there are set to be more than a 100 acts encompassing a wide array of genres from house and techno to trance, trap and future bass.
EZoo also announced five major stage hosts for 2019 which include All My Friends, Brownies & Lemonade, Gud Vibrations, Seven Lions Presents Ophelia and Pryda Arena.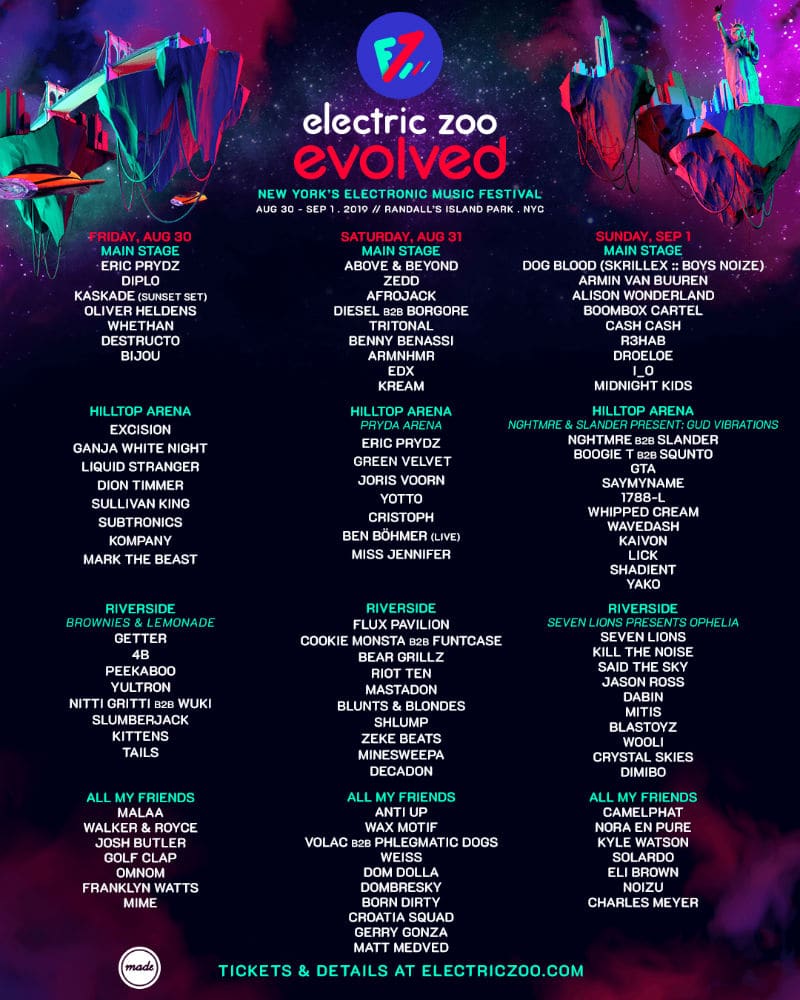 The festival also took to social media to tease a glimpse of their "tallest and widest" mainstage ever. Touted as "an evolved, futuristic, 3-D, fire-shooting" stage, the main stage this year will also feature the iconic New York City skyline.
The party doesn't quite end withh the festival. There are also official after parties galore at multiple venues around Brooklyn on all three nights. From a Brownies and Lemonade afterparty on Friday night, to Shaq's Bass All Stars on Saturday, and Eric Prydz taking over the decks for a third time over the weekend among others!
While tickets are selling out fast with the festival coming up next week, limited tickets are still available on the official website here. And as we wait for next weekend withimmense eagerness, here is the aftermovie from Electric Zoo: The Big 10 to get those excitement levels amped up further.
Techie by day, rager by night. Full-time Expert at Apple and part-time writer with multiple EDM publications based in the Big Apple. My interest in the dance music scene began about 10 years ago and there was no looking back from there. I got involved with it on a professional level in 2013-2014 when I joined the core team for a leading music festival in India. Managing the entire Digital Marketing piece for them in addition to the Public Relations aspect, helped me gain insights into the industry. Upon moving to NYC a few years after, I decided to combine my passion for the music along with my flare with words and began contributing to EDM publications as a freelance writer.
Latest posts by Melody Siganporia (see all)