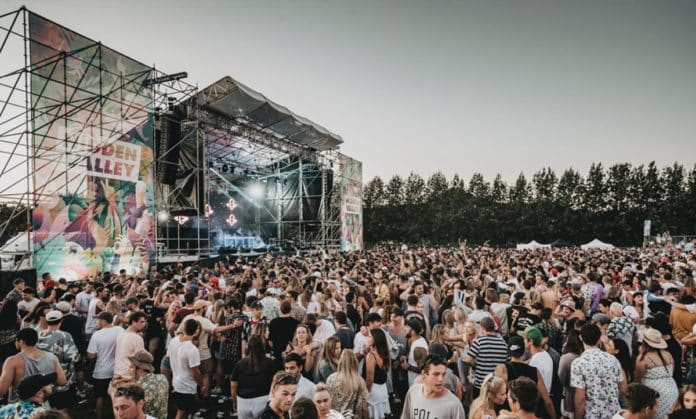 Despite its geographical isolation, New Zealand is a country many tourists dream of visiting.
Alongside cultural attractions (such as touring the Shire from Lord of the Rings) and beautiful natural scenery, there are also plenty of great musical festivals to enjoy.
New Zealand is a beautiful country with plenty for both homegrown tourists and visitors from overseas to enjoy. But it also has great online distractions, such as the best New Zealand online casinos.
Phillip Scott from Top10casinos.com has analyzed and reviewed the best places to bet online in New Zealand, considering promotions, available games, banking methods, and more.
Whether you're on the road heading for a festival or have a few minutes to kill in your hotel room, mobile gaming can be a great way to have fun on the go at the best New Zealand casinos.
Rhythm and Vines
Our first port of call on the list of the top music festivals in New Zealand is Rhythm and Vines, which takes place in Gisborne (within the Waiohika Estate on the east coast of North Island). For those who like to ring in the New Year in style then this three-day festival is ideal as it takes place from 29th to 31st December.
The location is absolutely beautiful and was picked on that basis by founding friends Hamish Pinkham, Tom Gibson, and Andrew Witters when the first Rhythm and Vines festival was held in 2003. Their idea was for a picturesque, and safe, backdrop for a festival featuring both established and rising stars from the world of New Zealand's music, and its location has the nice side effect of making it the first festival to welcome the sunrise of a new year.
Rhythm and Alps
Another leading Kiwi musical festival is the sister event of Rhythm and Vines: Rhythm and Alps. Located on the South Island at the foot (fittingly) of the Southern Alps, this musical extravaganza is also a three-day event and likewise takes place from 29th to 31st December (the downside being, of course, you can only attend either this or Rhythm and Vines in a given year). Dozens of acts both home-grown and international perform across four stages and three days to welcome in the near year.
Pasifika Festival
While occasionally even great events like Festival X Rising end up disappearing from the musical calendar, new festivals are always being added and there's no shortage of musical treats through the year in New Zealand.
One such event is the Pasifika Festival, which takes place in Auckland over 11 stages that play host to ukuleles, brass bands, drums, and plenty more to celebrate Pacific cultures, including that of the Maori.
Homegrown
Hosted in the capital city of Wellington, the Homegrown music festival offers an eclectic mix, with genres including rock, hip hop, reggae, and more so that every taste has a musical treat to enjoy.
The event starts in the middle of March and features a quintet of stages erected on the Wellington Waterfront. The capital location makes Homegrown one of the easiest festivals to reach for both Kiwis and international tourists, with all of Wellington's attractions close at hand (including the artistic delights of Museum of New Zealand Te Papa Tongarewa and the exotic wildlife and beautiful scenery of Zealandia Te Māra a Tāne). And the March calendar slot avoids the worst heat and offers a usually cool and comfortable atmosphere.
WOMAD
Another three-day festival that has delighted many a Kiwi and overseas visitor over the years is WOMAD. The festival takes place over three days in the middle of March in Bowl of Brooklands and Brooklands Park which is in New Plymouth (Taranaki).
As with many other leisure activities, there has been a recent hiatus in WOMAD due to the effects of the pandemic and ensuing lockdowns, but it is due to return in 2023. WOMAD stands for World of Music, Arts, and Dance and is a family-oriented festival, making it ideal for holidaymakers traveling with little ones. It's also great for campers thanks to the range of camping options, and people of all ages are welcome at this multicultural musical event.
New Zealand is renowned around the world for its stunning scenery, and the musical landscape provides a feast for the ears as well.