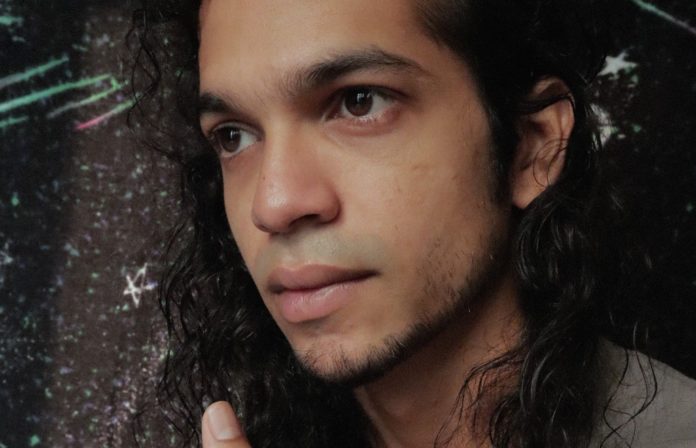 OX7GEN is at the forefront of the Drum & Bass evolution in India. He can boast over a decade of extensive touring alongside several independent releases under his belt.
Over the years, OX7GEN has supported the biggest names in Drum & Bass including London Elektricity, Sub Focus, Netsky, Alix Perez, Dub Phizix, and Skeptical, whilst his singles, 'Trinity' & 'Trinity VIP' were released through Hospital Records' sub-label Med School Music. He's also well known for collaboration with Sub Focus as part of the BUDX series, produced by Vice India.
However his success doesn't stop there – he's ventured outside of dance music, officially remixing U2 as well as being the drummer for metal giants Skyharbor for four years leading to supporting the Deftones and BABYMETAL in Europe & America.
More recently his track 'Kodachrome Sky' on the Programmed series from Ram Records sister label turned heads; following its release, we caught up with a countdown of his top ten influential tracks and the stories behind his selections…
Bare Religion – London Elektricity
Literally, the first drum & bass song I ever heard that got me hooked for life. I had just heard Erik Truffaz on the PA in a club and was very intrigued by the fast-paced drumming style. I asked the DJ what he was playing and he further recommended London Elektricity. I came home, googled him and this was the first track that came on. Listening to this was like that first kiss with your soul mate. I was hooked.
Follow The Light – Sub Focus
This tune was the first one to give me the real sense of ecstatic euphoria that a lot of liquid & jump up drum & bass is all about. Also probably one of the first 5 drum & bass songs I ever heard. Those 7th overtones over the main sub-bass were so easy to instantly fall in love with.
Elevate This Sound – Calyx & Teebee
This song really blew up in our circles a few months before C&T came down to India for Bass Camp festival in 2013. It's since been something I play every time my friends are in the crowd, and we all kinda dance and reminisce together. It gives me a sense of being part of a community of friends and heads, who all came from the same place many years ago, held together by a mutual love for drum & bass.
Concord Dawn – Blow
I had the good fortune of meeting and opening for Matt when he toured India in 2012. Apart from being an absolutely solid human being, his music holds a special place in my library. Blow is one of those tracks that works in almost any situation. It hooks you with it's main haunting melody, steadily building anticipation before a solid rhythmic assault. Perfectly encapsulating what drum & bass is all about for me.
Amulet – Whiney
Whiney has become one of my favourite drum & bass producers in the scene right now. His effortless blend of melodic & edgy aggressive sounds is exactly what I love about drum & bass as a genre. This one, in particular, is a bit more on the euphoric and melodic side. A lot of my music features similar lush washy pads and emotions.
Want My Love – Metrik
Possibly one of the most special songs for me in the world of drum & bass. I heard it first in 2014 at Glastonbury at midnight on Sunday at the Arcadia stage, high as a kite. The song still gives me goosebumps EVERY SINGLE TIME. I feel like the emotions at that moment in time has been frozen forever inside me somewhere. Pure magic. It's also an absolute beast on the dance floor.
Suffer in Silence feat. Zero T – Alix Perez
Suffer in Silence has become a ritualistic tune for me. It's the first song on my 'Getting in the zone before a show' playlist. Alix has been someone that I look up to a lot in terms of his musical sensibilities & his moves in the industry. I love his treatment of Zero T's vocals on this one, as well as capturing that subtle smooth liquid dnb aesthetic.
You Got Me (SPY Remix) – Kings of the Rollers
This one's going to stand the test of time. An absolute smasher on the dance floor. The dynamic range on this tune is special – a really long cinematic build up into a super frantic amen break on the drop, instantly followed by a smooth but steadily moving rhythm when the sub kicks in. It's a perfect 1-2 sucker punch.
Just One Second (Apex Remix) – London Elektricity
This one's an all-time favourite. It always reminds me of my younger days, discovering drum & bass with my friends, driving to shows, wind in our hair, young and reckless. After Robert's untimely passing, the energy behind the song catapulted into something extraordinary. It was such an emotional tune before, the beauty and the sadness is almost unbearable when I listen to it now.
LTJ Bukem – So Long
This one's a deep well of inspiration for me. I came across Bukem's Logical Progression during my initial months of exploring drum & bass and all its different styles. Logical Progression 2 and this song in particular is in my opinion the ultimate liquid drum & bass taster. It always takes me back to the beaches in Goa when I first connected with the album and also when I first visited the magical beach state. Coincidently, 11 years later I've now permanently moved base to Goa and it all feels quite serendipitous.
Latest posts by Hannah Helbert
(see all)