Tomorrowland is one of the biggest electronic dance music festivals in the world which is held in Boom, Belgium. It was first held in 2005 and ever since, it has been one of the most awaited events every year. We are less than a week away from the first weekend of the festival and here are some fun Tomorrowland facts you should be aware of.
Tomorrowland Facts: #1
The first edition of the festival took place in 2005 and attracted a crowd of about 10,000 people. Due to the fact that it was the debut edition and to create more buzz, festival organizers were giving away free passes to Belgians to fill up the festival.
Tomorrowland Facts: #2
Although Tomorrowland started as a 1-day festival, it now takes place over 2 weekends and even then, tickets get sold out within minutes.
Tomorrowland Facts: #3
The first edition took place on Aug 14, 2005 and featured the likes of Armin van Buuren, Erol Alkan, Mike Dierickx, Justice, Sven Väth, and Sasha.
Tomorrowland Facts: #4
It was during the 3rd edition that the festival lasted for 2 days for the first time. And, this edition also attracted a lot of people from across the borders.
Tomorrowland Facts: #5
The biggest selling Tomorrowland anthem to date – 'Tomorrow/Give Into The Night' was produced by Dimitri Vegas, Like Mike & Dada Life. The vocals were contributed by Tara McDonald.
Tomorrowland Facts: #6
In 2011, the festival expanded to 3 days and had a smashing line-up featuring Avicii, Carl Cox, David Guetta, De Jeugd van Tegenwoordig, Hardwell, Nervo, Swedish House Mafia, Tiësto, Laidback Luke, Paul van Dyk, Brodinski, Faithless and many more. This edition was sold-out within few days of the ticket launch and it attracted a crowd of about 180,000.
Tomorrowland Facts: #7
In 2012, the ticket server crashed because too many people were trying to buy the tickets. And, online distributor Timoco couldn't handle the pressure due to massive demand for tickets at that time.
Tomorrowland Facts: #8
Tomorrowland was voted the 'Best Music Event' at the International Dance Music Awards for a consecutive period of 5 years (2012, 2013, 2014, 2015 & 2016).
Tomorrowland Facts: #9
In 2015, Tomorrowland won the inaugural award from DJ Mag for 'The World's No.1 Festival'.
Tomorrowland Facts: #10
It also won the 'Best Festival' award at Red Bull Elektropedia Awards in 2011, 2012 & 2013.
Tomorrowland Facts: #11
Due to massive success of this Belgian festival, in 2012 ID&T decided to give Belgians an exclusive pre-sale access to tickets (80,000/180,000). Tickets were sold out in less than 1 day and at times during the window there were about 2 million people waiting online on the wait-list.
Tomorrowland Facts: #12
Tomorrowland also decided to partner with Brussels Airlines to provide special travel packages from about 15 destinations for the attendees. Flight packages typically included the below:
Return flight to Brussels Airport
Accommodation (DreamVille and/or Hostel or Hotel)
Tomorrowland Ticket – Full Madness Pass (Regular or Comfort)
Newspaper during Tomorrowland
Tomorrowland Souvenir Bag
All necessary transfers
Belgian Journey (for those who arrive on Wednesday)
Detox Day (for those who depart on Tuesday)
Tomorrowland Facts: #13
One of the biggest highlights of the 2012 edition was Cloud Rider, the highest mobile Ferris wheel in Europe.
Tomorrowland Facts: #14
Tomorrowland has a secret 100-foot-long bunker that houses all cables running from the stage to the technical booth. This is to prevent drunk festival goers from tripping over the cables and causing any technical mishaps.
Tomorrowland Facts: #15
Composer and record producer, Hans Zimmer teamed up with Tomorrowland to produce a classic hymn that would premier during the tenth edition.
Tomorrowland Facts: #16
Tomorrowland has a library! Yes, you read that right. There is a library situated at the flea market section where you can drop by to read a book.
Tomorrowland Facts: #17
David Guetta holds the record for 11 straight appearances at this premium festival (Technically, that means he has performed at every single edition). Not even local boys Dimitri Vegas & Like Mike have achieved that feat.
Tomorrowland Facts: #18
Tomorrowland organizers rent the site from about 20 local farmers to set up the festival grounds.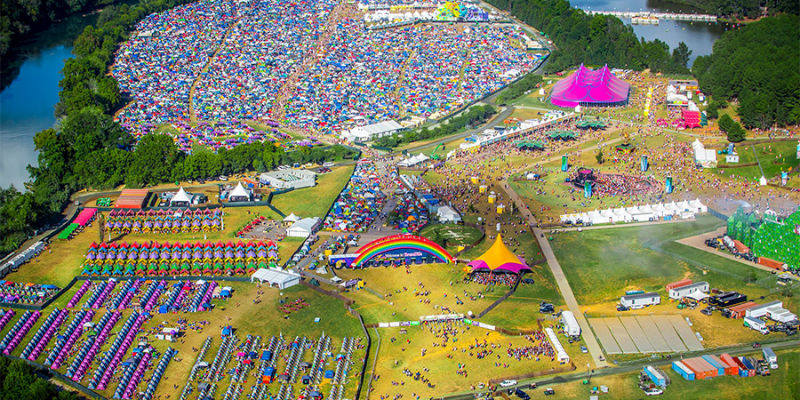 Tomorrowland Facts: #19
Belgium is very popular for its chocolates and festivals goers can sample the Belgian chocolates even without leaving the festival grounds.
Tomorrowland Facts: #20
For all the food connoisseurs, Tomorrowland has a 2-star Michelin restaurant, where some of the world's best chefs keeping your taste buds engaged.
Tomorrowland Facts: #21
Every edition has a unique theme that takes fans on a magical journey. This change in theme ensure that regular attendees have a different experience every single time. Read more about the evolution of the stage and themes here.
This year's edition will take place over 2 weekends on July 20-22 & 27-29 and the line-up includes some of the biggest DJs from across the globe like Carl Cox, Armin van Buuren, Martin Garrix, Dimitri Vegas & Like Mike, Alesso, Tiesto, Axwell & Ingrosso, Dave Clarke, W&W, Kolsch, Don Diablo, Above & Beyond and more. Under the theme 'The Story of Planaxis', this year's event is ready to give the people of tomorrow another thrilling and enchanting journey in the lawns of Boom, Belgium.
Hopefully you were able to grab these fast selling tickets to enjoy an experience of a lifetime.
Latest posts by Ranjiv Asher
(see all)